World famous frozen yogurt brand, Pinkberry,  has opened its first outlet in Ghana, in partnership with Golden Peak Investment Capital [GPIC].
At an event to outdoor the outlet on Thursday, president & CEO of Pinkberry International Aaron Serruya said the company is happy to serve and become a local favorite of the sophisticated community in Ghana, while partnerinpg Golden Peak Investment Capital, who share their values and commitments on exceeding customer expectations day in and day out.
Pinkberry,  first launched in 2005 in Los Angeles, now has more than 250 shops in over 21 countries.  Products are made with ingredients including nonfat milk and low-fat yogurt to deliver the perfect balance of tart and sweet, resulting in a refreshing, light and crave-able taste with a clean finish.

Managing Partner of GPIC, Kobbina Awuah, said the introduction of the Pinkberry products in Ghana signals the country's strong fundamentals and attractive demographics and they are looking forward to revolutionizing the way Ghanaians think about treats.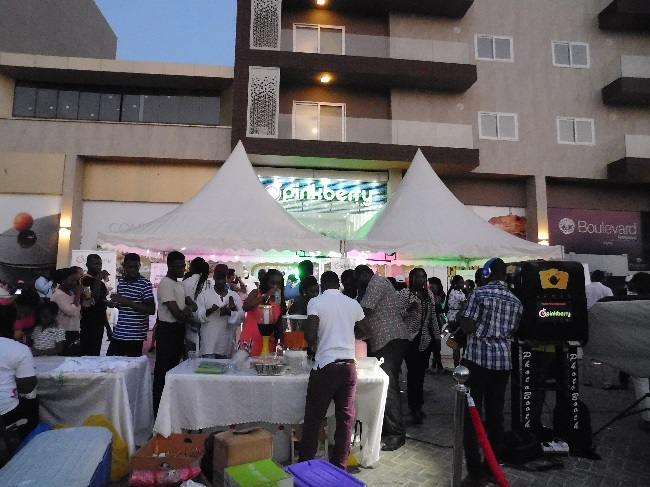 The opening of the first shop in Sub-Saharan Africa at Cantonment in Accra attracted a lot of Ghanaians who experienced the tasty delight of frozen yogurt from Pinkberry.
Chief Executive Officer of Ghana Investment Promotion Centre, Yofi Grant, noted the opening of the Pinkberry shop in Ghana shows how Ghana is increasingly becoming the investment destination in Africa. He urged foreigner investors to follow the footstep of Pinkberry and invest in the Ghanaian economy.
The American ambassador to Ghana Robert Jackson who graced the occasion said the opening of the company goes a long way to show the success of the trade relation between Ghana and the U.S.
He added that the company will bring more jobs, stimulate the development and create more revenue for the country.
Present at the ceremony also, was the Finance Minister Ken-Ofori Atta.