Actress Fella Makafui has cleared the air about her absence from Ghanaian series YOLO as she did not star the Season 5.
CEO of Farmhouse Productions, Mr Ivan Quashiga, announced before the release of the Season 5 that we may not see some old faces and hence new stars will come through.
Many speculated that Fella Makafui had been dropped by the CEO but she has now cleared the air and explained why she did not feature.
"I am too busy and might not get the time to shoot series now, this will even allow new guys to come through, I am still working with the CEO of Farmhouse and we are working on something"
Fella threw more light on a Tweet her boyfriend Medikal put out after the new Season 5 was launched.
The rapper branded the Season 5 as 'shit' and said he will not watch if his girlfriend isn't part.
"He was just talking out of emotions and watches YOLO a lot and loves my character so he was not just happy I was not part, so what he said is just normal" she added.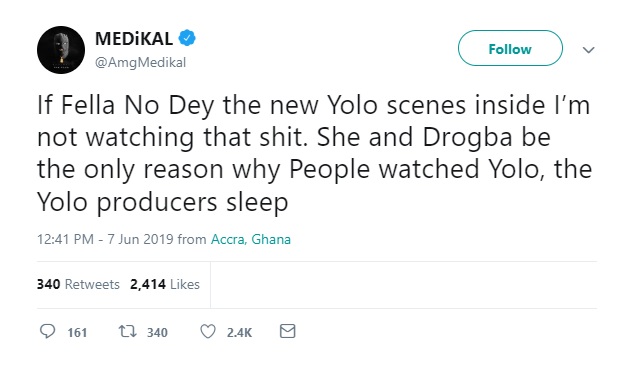 Yolo (You only live once) is a Reproductive Health TV series produced and directed by Ghanaian filmmaker Ivan Quashigah. The series is a sequel of the Ghanaian TV Series 'Things We Do for Love'. It advises and directs the youth concerning the challenges they face in their sexuality.
The Season 5 of Yolo has some popular faces like Aaron Adatsi as Cyril, Queenstar Anaafi as Emily, John B. Peasah as Drogba,  Jackie Appiah as Enyonam, Desmond Danso Sekyi as George among others.
Fella Makafui is one of the old faces missing in the new YOLO season.