Former President John Dramani Mahama has, for the first time, raised issues with the results of the 2016 presidential election.
According to him, the election, which he lost to then-candidate Nana Addo Dankwa Akufo-Addo, had some irregularities but the National Democratic Congress (NDC) took a decision not to contest the results.
Speaking on GTV's current affairs programme, Moomen Tonight, last Tuesday, he explained that the decision not to pursue the matter by going around the country to gather evidence of over-voting and other irregularities was based on the fact that the NDC was bent on strengthening the democratic dispensation.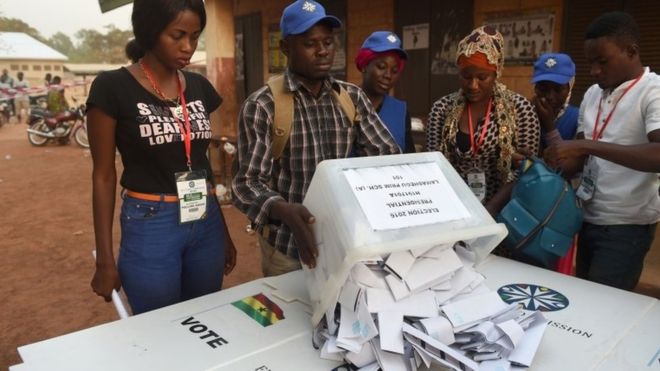 The 2016 elections were pronounced free and fair by local and international observers
"It is not that there were no irregularities. I could have gone round and gathered all kinds of examples of over-voting and tie the nation in court again. But I do think that the NDC is playing the game democratically," he stated.
Mahama explains why Rawlings 'snubbed' him at 25th-Anniversary Celebration
Former President John Mahama has dismissed rumours that there is a feud between him and former President Jerry Rawlings.
Rebutting to a viral video in which his predecessor was seen giving him a cold handshake at the recent Silver Jubilee celebration of the Fourth Republic,  Mahama explains that, having worked with the founder of the National Democratic Congress (NDC) for a long time, he understands his mood swings.
"Sometimes he's in a mood where he doesn't want to engage in any conversation and so recently at the Thanksgiving; they were giving all kinds of interpretation to the handshake. There are occasions where he comes and you don't know what mood he is in, he greets military style and passes but there are on some other occasions, I met him in Kpando and we had a very warm handshake and we exchanged pleasantries.
Background
In a 14-second video that is trending on social media, ex-President Mahama appeared to have arrived earlier and was by his seat exchanging pleasantries with other arriving dignitaries including former President John Agyekum Kufuor.
Former President Kufuor arrives moments later and they hug each other in a very cheerful manner while exchanging some words and beaming with hearty smiles.
This is immediately followed by the founder of the National Democratic Congress (NDC) who comes in with a frowned face, fail to look at John Mahama who also looks at the opposite direction, shakes his hand and moves on.
 primenewsghana.com/Ghana News