The Deputy Minister for Works and Housing, Barbara Ayisi Boateng has urged women in top positions in the country to come together, share their life experiences to serve as role models for young people particularly those residing in less privileged areas across the country.
According to her, some of these young people living in rural areas are not privileged to have role models to look up to in achieving their goals and contribute to nation-building. 
The Deputy Minister made this known at the media launch of Ghana Most Inspiring Women's awards 2019 at the Accra International Press Centre today, August 14 2019. 
The programme which is in collaboration with the Afrik media galaxy and women in aviation signalled the official opening of nominations for women who have inspired social change in their societies through their fields of endeavour.
Addressing the media and stakeholders, the Minister reiterated the statement of former President Kwegyir Aggrey which states that ''if you educate a man you have educated an individual but when you educate a woman you educate a whole nation'' highlighting on the significance of girl child education in the country most particularly the rural areas. 
She also pointed out that: ''Some women have gone through difficult times, challenges and sometimes when young people see us up there, they think it is easy. Life itself is not easy. When the competition commences a lot of women will share their experiences for people to know that life is not easy''.
The Deputy Minister further called on women to share their experiences, challenges to inspire young girls in rural areas to take up decent professions towards nation building
''All hands must be on deck, women must come on board, people must hear our stories so that we create a lot of role models for our young people. We do not have alot of role models because of that alot of our role models are growing up who don't have anyone to tell them that you will make it, you will succeed. We need to make sure our children are confident. The focus is not on people in towns and cities but people in rural areas and have very terrible upbringing and sometimes do not have the opportunity to see what is going on in the world''.

Dep Minister of Works and housing,Barbara Ayisi Boateng and some stakeholders
Meanwhile, the Executive Director of Afrik media galaxy, Joseph Egyir Sarfo said young girls look up to people in their communities hence are likely to venture into low esteemed professions. And that, girls in rural areas are less advantaged as compared to the city ones because they are not exposed to certain opportunities.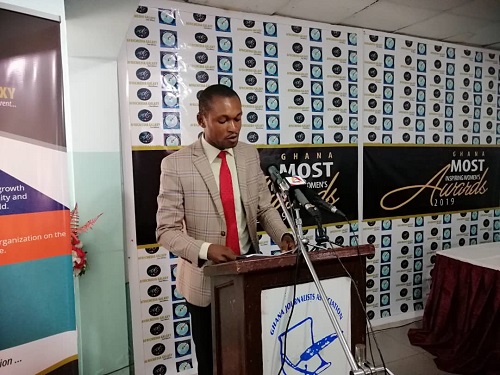 Executive Director of Afrik media galaxy, Joseph Egyir Sarfo
READ ALSO :