The Supreme Court Registry has refuted claims that the court has issued a warrant for the arrest of the embattled Chief Executive Officer (CEO) of Menzgold, Nana Appiah Mensah was popularly known as NAM1.
There are media reports that the Supreme Court has issued an arrest warrant for Nana Appiah, Rose Tetteh, believed to be his wife and one Benedicta Appiah.
On the arrest warrants circulating on social media, the three individuals are accused of defrauding by false pretence.

But a source at the Supreme Court Registry told Graphic Online that the apex court of the land had not issued any such warrant.

"There is no writ involving Menzgold before the Court, neither has any issue concerning Menzgold been referred to the Court from another court," he said, indicating that other courts may have issued the warrants but it certainly was not the Supreme Court.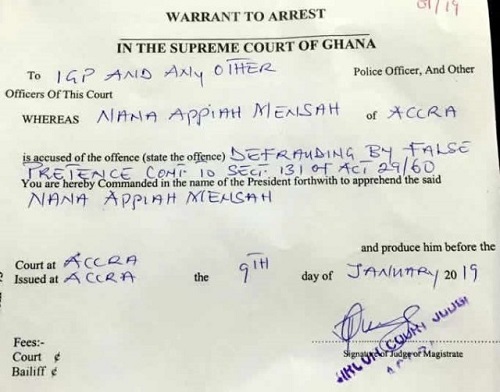 The confusion on which court issued the warrant arises from the writ which has Supreme Court at the top because it is the apex court of the land, but to really know which court issued a warrant is confirmed by the stamp and signature of the Judge or Magistrate.
In this case, the court that issued the warrant is the Circuit Court, not the Supreme Court.
Read also: Menzgold saga: INTERPOL charged to assist with arrest of "Ghana's most wanted" Nana Appiah Mensah
Source: graphic/primenewsghana
Ghana News: latest news in Ghana