A summary of the 2018 Referendum to create six new regions have been provided by the Electoral Commission.

According to the summary provided by the EC on December 28 in Accra, the requirements - 50% of registered voters voting and 80% of the valid voters voting yes - which makes the results valid was met in all the regions.
Comparatively, the highest turnout of registered voters was recorded in the Ahafo referendum where 90.41% of registered voters participated in the polls which translates to 277,663 out of 307,108 persons.

The lowest turnout of registered voters (77.69%) was recorded in the Western North referendum where out of a total of 502,185 registered voters only 390,128 took part in the polls.

YES or NO vote
The NO vote was unable to garner 1% of the valid votes cast in the respective regions with Oti recording the highest percentage - 0.89% while Ahafo (99.68%) edged North East (99.67%) with the highest percentage of YES votes.
This is how the Ghana map will look like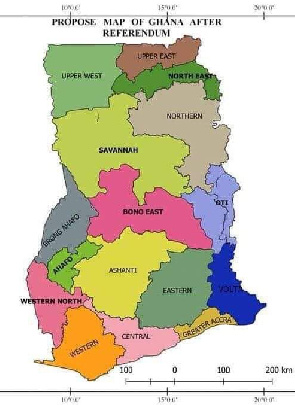 Read also: Gov't happy with successful Referendum - Dan Botwe