President Akufo-Addo is expected to deliver his 13th COVID-19 address to Ghanaians today June 28, 2020.
The President is expected to deliver his address on measures the government has taken in the fight against COVID-19.
He is expected to deliver at 8:00 pm. In his last address on June 21, he announced the reopening of schools for final year students of Senior High Schools.
READ ALSO: Stranded Ghanaians in South Korea to be evacuated on July 2, 9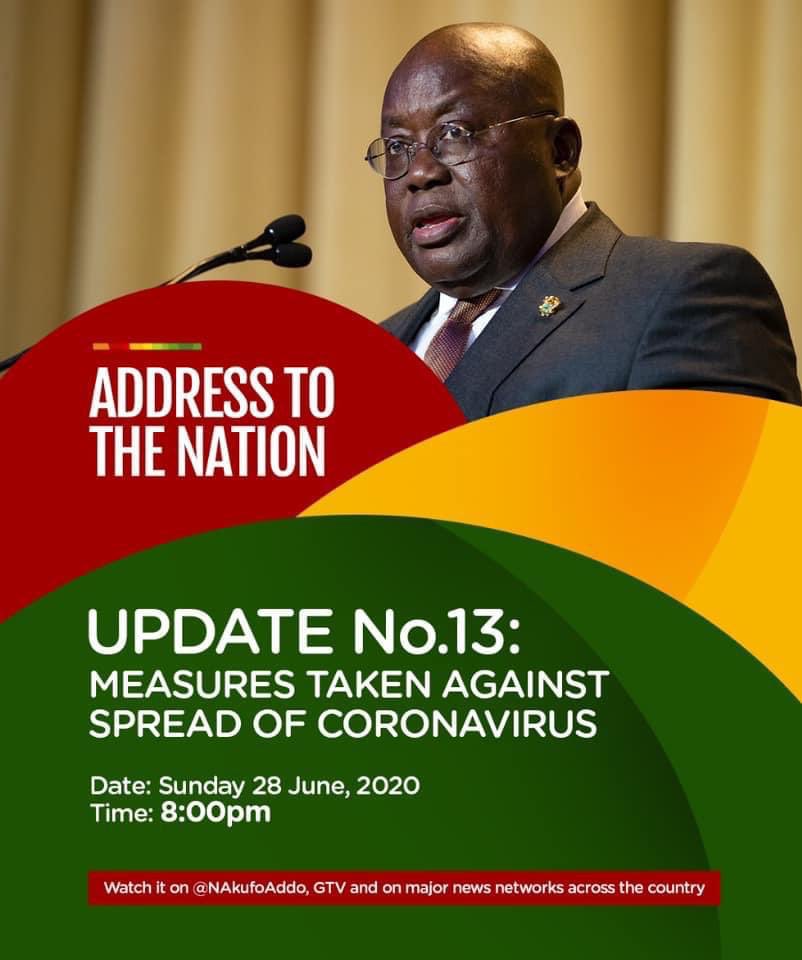 He also announced a number of measures the government had put in place fumigation, sharing of mask, provision of veronica buckets among others for these schools.
He also disclosed that a maximum of twenty-five students will be permitted in each class. All day students in schools with boarding houses will be resident in these boarding houses, whilst day students, in schools without boarding facilities, will commute from home, and will be required to adhere to enhanced hygiene protocols; eating in dining halls will be in appropriate numbers; and no visitors to the schools will be allowed.
His biggest announcement on the night was when he announced that government will absorb the WASSCE examination fees of the three hundred and thirteen thousand, eight hundred and thirty-seven (313,837) SHS 3 students who will sit for the exam. GH¢75.4 million will be spent on this.
Ghana's COVID-19 cases have increased to 16,742 after recording 311 new cases.
This was contained in the Ghana Health Service's latest update on Sunday, June 28, 2020.
However, the total number of persons who have recovered from the novel disease in the country has increased to 12,720.
Persons who have died from the virus has moved to 112.