President John Mahama has countered tweets mocking him for celebrating Christmas with his natives at Bole in the Northern region.
Some social media enthusiast on Twitter have been sharing some tweets with the aim of mocking President John Mahama for opting to have a good time in his village Bole this Christmas.
According to the mockers, President Mahama  chose to be in Bole because of the worrying defeat he suffered in the just ended December polls.
Per the mockers tweets, President Mahama spent the last year's Christmas in Dubai which is not the same story this year.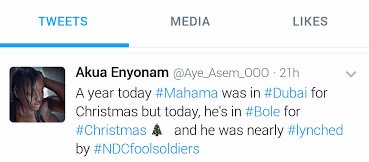 However, in a reply on Twitter, President Mahama refuted the claims of mockers, stating that he was not in Dubai for Christmas last year. Rather, he was in his constituency on Christmas Day in 2015.
As a matter of fact, in 2013 President Mahama spent his Christmas holidays in Dubai where he met Prime Minister Sheikh Mohammed bin Rashid Al Maktoum of the UAE in Dubai.