A woman known as Rita Dede, 25, has allegedly drowned her own son, Joseph, 5, in a neglected well at Ogome, a suburb of Somanya in Yilo Krobo.

THE ISSUE:

Three days ago, the mother made an announcement at the Ogome information centre to inform the general public of her "missing" son. And that, if in case anyone sees him, he/she should return the boy to her.

A popular pastor in the area, who heard of the missing boy's story, revealed to the family that the mother of the deceased was responsible for the missing of the son and that, the family should ask her (Rita) to lead them to where she committed the heinous crime.

This morning, Wednesday, the Mother (Rita) led the family to an abandoned well at Ogome where the body of Joseph was seen floating on the surface of the water.

THE POLICE

The Somanya police Command was at the scene. The said Rita has been arrested for questioning and further investigation.

Scores of people trooped in to catch a glimpse of the incident at Somanya Ogome.

However, the body has been retrieved from the well by the Ghana Police Service in the area to assist the police in the investigation and further processing.
Viewer discretion is advised on the photo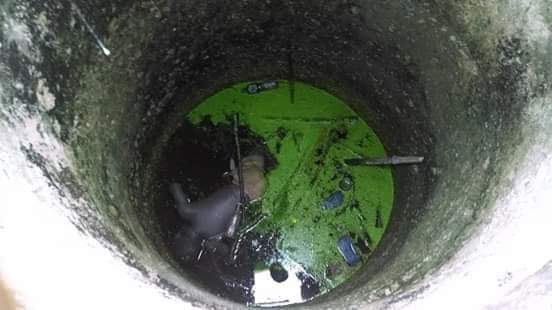 Read also:
Visit primenewsghana.com for more Ghana News
Source: Kloma Hengme