The Catholic Bishops' Conference is the latest to condemn comments made by the founder of Glorious Wave Chapel, Prophet Emmanuel Badu Kobi against some women in Ghana.
It will be recalled that a viral video showed Prophet Badu Kobi telling his congregation that Fante women were prone to behaving foolishly in a relationship, while Ewe women were so docile their husbands turn them into 'doormats.'
The comment that caught the attention of many was when he said Ashanti women usually come across as mean and greedy in marriages.
These comments received a lot of backlash from the public and the Christian Council condemned it with the Ghana Catholic Bishops' Conference also following suit.
At its just-ended Plenary Meeting, the Ghana Catholic Bishops' Conference said the issue was deliberated on and "we condemn him in no uncertain terms for saying what he said.
"It is our view that a pastor of a church, or anybody for that matter, should not talk the way he did. In so doing, he has shown great disrespect to women. Such statements bring division not only in the church but also in the nation," a statement signed by President, Most Rev. Philip Naameh said.
Read full statement below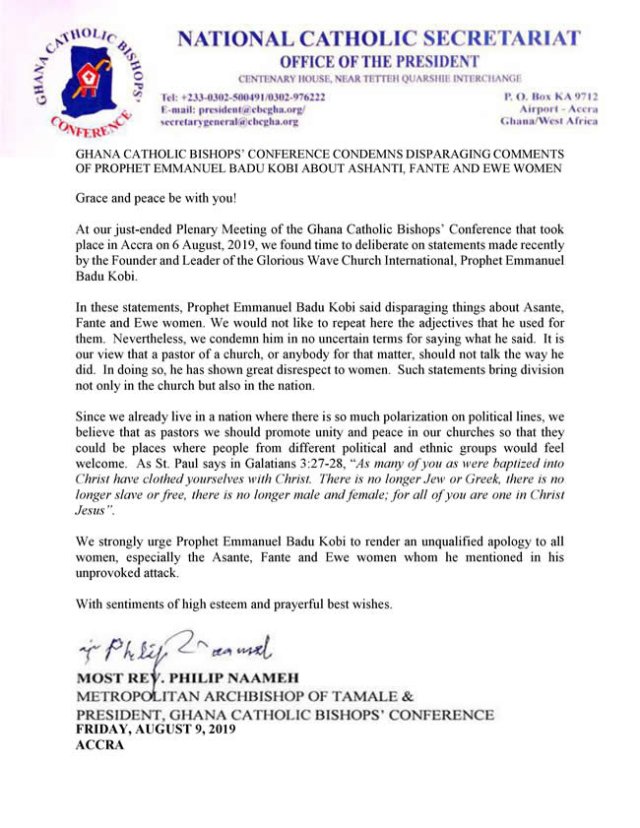 READ ALSO: