The office of Board Member of National Sports Authority and former Member of Parliament for the Asante Akyem North Constituency, Kwadwo Baah Agyemang have moved swiftly to deny reports claiming that he masterminded the act that saw Muslims in Agogo Zongo reject food items donated to them by incumbent Member of Parliament Andy Appiah Kubi.
On Saturday, June 1, 2019, it was chaotic as items donated to the Zongo community by DCE of the area on behalf of the MP was rejected by residents and they even chased out the MP's delegation.
The residents say the MP has made several lofty promises which he has since reneged on.
There have been several talks about these acts by the residents and some associates of the MP have pointed fingers at former MP of the area Kwadwo Baah of instigating this act.
His office, however, has distanced themselves from the claims.
Portions of a statement they released dated June 4, 2019, read: However, the Communications Directorate of Hon. Kwadwo Baah Agyemang, has been made aware of various comments and posts that the NPP Constituency Secretary and Youth Organizer for the Asante Akyem North Constituency, Mr. Williams Aboagye and Derrick Amoah have made and are making in the media which makes reference to Hon. Kwadwo Baah Agyemang. They claim that the incident that occurred on Saturday, 1st June, 2019 at Agogo Zongo was fiendishly designed by Hon. Kwadwo Baah Agyemang. This same groundless assertion has been published on the twitter handle of class FM. 
We wish to state for the records that the claim by the above mentioned personalities is a contrived mendacity, calculatedly designed to smear the political reputation of Hon. Kwadwo Baah Agyemang and should therefore be treated with the contempt that it deserves.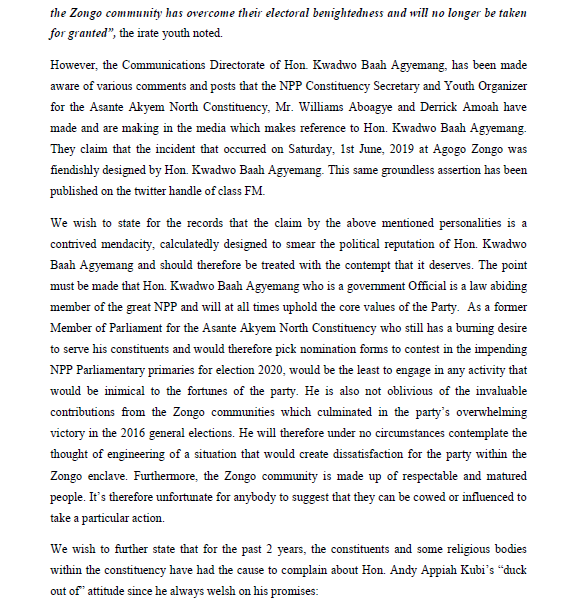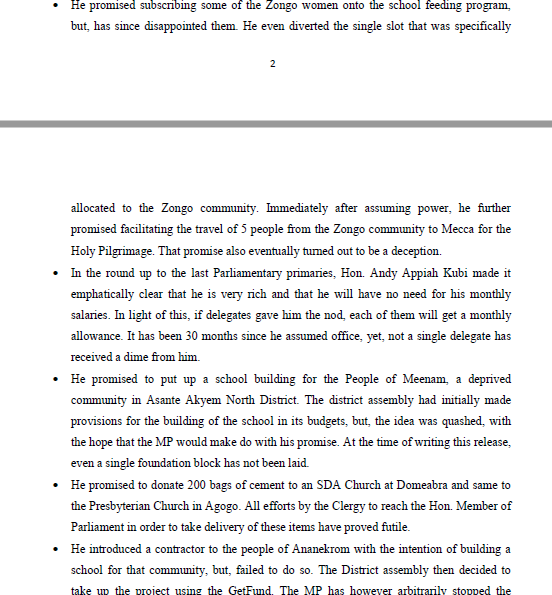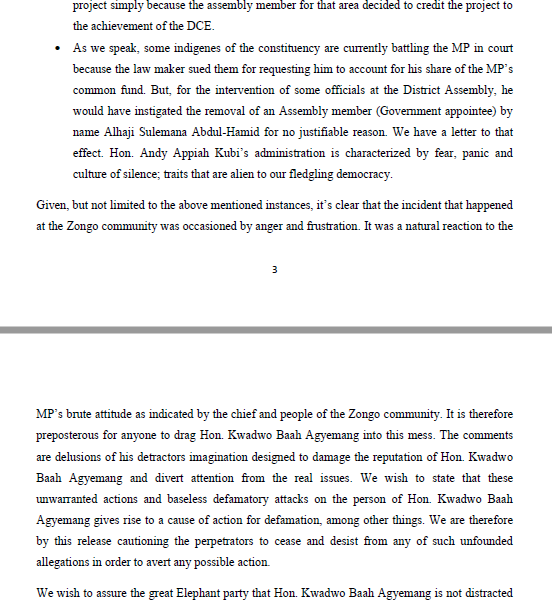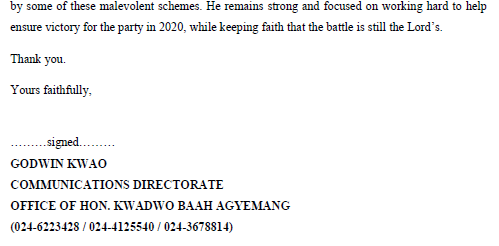 READ ALSO: