The Managing Director of the State Transport Company (STC) Nana Akomea has moved quickly moved to rubbish reports that he has slammed the leadership of the New Patriotic Party (NPP) for matching NDC's Felix Kwakye Ofosu with Deputy Information Minister.
The two squared off on June 13, 2020, on Joy FM's Newsfile and many are of the opinion that Felix Ofosu Kwakye was too much for Pius Hadzide to handle.
Some comments on social media suggested that the NPP should not have matched Pius with Kwakye Ofosu because the latter is a smart communicator.
READ ALSO: NDC's Green Book is an indictment on their leadership - Pius Hadzide
A story that was circulating also suggested that one Nana Akomea has added his voice to the issues and also gone hard on the NPP leadership for not matching Kwakye Ofosu with someone who is also fluent and on top of issues.
Today June 14, 2020, the former Minister for information has moved to brush off the reports and said he has not made such comments and said the said publication must be treated with contempt.
He posted on his Facebook wall: "For the records, Nana Akomea hasn't made any post on his wall since 2nd June, 2020. I woke up this morning to read a publication by GhanaWeb suggesting the former information and communications director of the ruling new Patriotic party, Nana Akomea has slammed the communications outfit for matching the current deputy information minister Pius Enam Hadzide with Felix Kwakye Ofosu. The said publication should be treated with all the contempt it deserve.
On 2nd June, 2020 he wished his adorable wife, Mrs. Eno Akomea on the occasion of her birthday.
There are two different accounts bearing the same name Nana Akomea with different images and are certainly not that of Nana Akomea.
The screenshot Ghanaweb claimed to be a post made by Nana Akomea is actually one of those two names.
See below both images of the former information and director of communications and the very account that made a pose earlier.

Ghanaweb has displayed a very shameful act and should be reprimanded."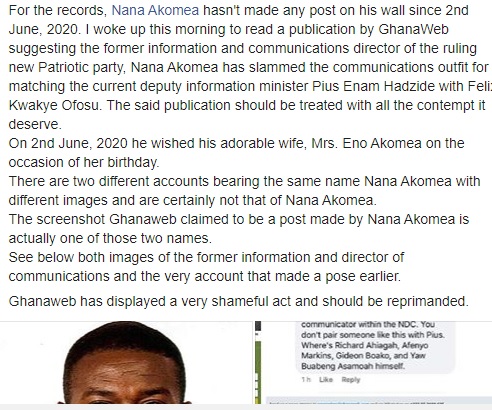 Check the post from the said Nana Akomea below