The Communications Director of the NPP, Yaw Buabeng Asamoah, has refuted assertions by the NDC that the embattled Menzgold boss, NAM1 has benefited from celebrity endorsement especially from President Akufo-Addo and the NPP fraternity.
Yaw Buabeng Asamoah made this known at a press conference held on January 16, 2019, at the NPP headquarters in Accra under the theme "The Truth forum". 
The NPP press briefing was aimed at addressing issues raised by the NDC at their "The Moment of Truth Series" press conference regarding the MenzGold saga.
The communications director of the NDC, Sammy Gyamfi accused President Akufo-Addo and the NPP of endorsing NAM1.
"The Menzgold problem is largely the creation of the Akufo-Addo Government. This is because, the many overt acts of endorsement and advertisement of Menzgold and its CEO, Nana Appiah Mensah (also known as NAM1), by the President and his Government is inextricably linked to the present predicament of grieving Menzgold customers.

"Undoubtedly, the open endorsement of NAM1 and Menzgold by this government greatly enhanced the credibility and legitimacy of Menzgold in the eyes of the public and encouraged many people to invest with the company even after the Bank of Ghana had cautioned against the activities of Menzgold," he added.
Reacting to the claims of endorsement, Yaw Buabeng Asamoah said: ''it's a matter of public record. He (NAM1) has visited several eminent persons in this country. Anybody who cares to know knows that he has visited several serious people in this country''.
He added that ''As a responsible political party supporting a very focused government, we will not stoop so low as to suggest that public offices, religious leaders, traditional leaders and others who by virtue of their office deserve to be abused for dirty political gains''.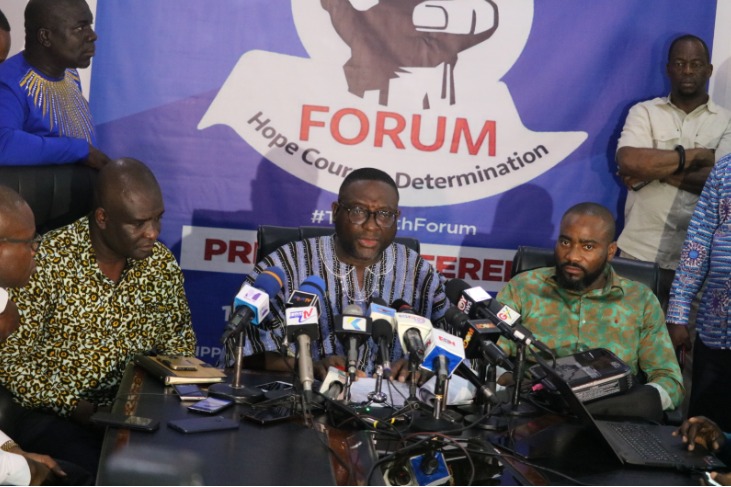 NPP Communication Director, Mr Yaw Buabeng Asamoah briefing the press
Yaw Buabeng Asamoah concluded that the NPP as a party is committed to the rule of law, therefore, state institutions should be allowed to work.
"NPP government is committed to a state of law, and that state of law there are clear distinctions between the powers of the state, powers of government, powers of regulatory bodies and powers of the President."
READ ALSO: