The opposition National Democratic Congress (NDC) will begin vetting of various aspirants for the National Executive positions of the party today.
The National Delegates Congress will be held in Accra at Trade Fair on November 3, 2018.
A timetable sighted intercepted by PrimeNewsGhana indicates that the vetting will take place at the NDC party Headquarters in Accra from Thursday, September 20 to Sunday, September 23, 2018.
It added that those vying for the National Women Organizer, Deputy Women Organizer, National Youth Organizer and Deputy National Youth Organizer are to be vetting on Thursday, September 20.
The time table added that the National Communications Officers, Deputy national Communications Officers, National Executive Council and Zongo Caucus Coordinators are scheduled to appear before the Vetting Committee on Friday, September 21, while those for Deputy General Secretary, National Organizer and Deputy National Organizer has been scheduled for Saturday, September 22.
Aspirants for the National Chairperson, Vice National Chairperson and the General Secretary are to be held on Sunday, September 23, 2018.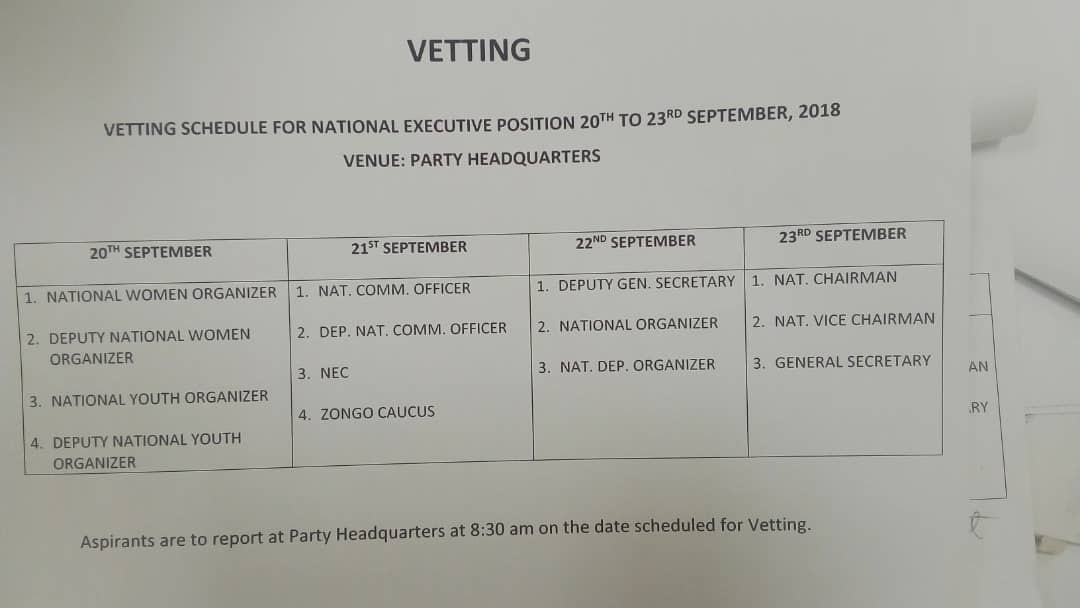 VETTING COMMITTEE MEMBERS
General Carl Modey
Hon Hajia Laadi Ayi Ayamba
Hon Marrieta Brew Oppong
Hon Kofi Amoatey
Mr. Kofi Adams
Mr. Vincent Kuagbenu
Hon Nii Okaija Adamafi
Latest political news from Prime News Ghana