The National Democratic Congress (NDC) has extended the deadline for its membership registration drive by ten days, effective Wednesday, June 8.
The decision was taken at a Functional Executive Committee (FEC) meeting held on Tuesday, June 7.
"By this all registration exercise will finally end on the 18th of June 2022," a statement signed by General Secretary Johnson Asiedu Nketia said.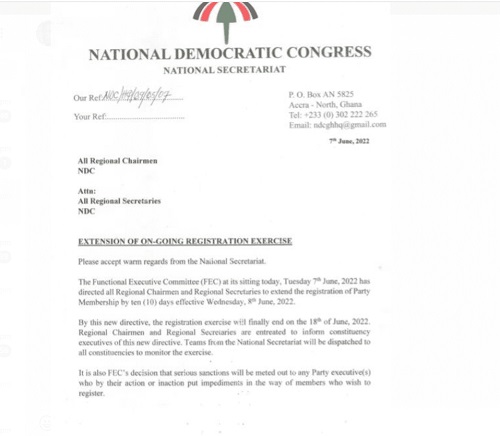 Meanwhile, Mr Johnson Asiedu Nketia, General Secretary of the National Democratic Congress (NDC), said the assumption that the Party would always win political votes in the Volta Region was a problem.
"Our biggest enemy is complacency, where we tend to think that whatever happens, we have won Volta Region. It is our stronghold, so we are going to win."
He said everyone was disappointed but not surprised that the Party lost the parliamentary seat in the Hohoe Constituency.
Mr Asiedu Nketia addressing Branch Executives of the Party in Hohoe as part of activities to mark the Party's 30th Anniversary, said the seat was lost partly through gerrymandering.
He said the carving out of the Guan enclave from the Hohoe Constituency although unlawful, could not be reversed although they fought it.
Mr Asiedu Nketia said there was the need for the Party members to look at the new Hohoe Constituency without the Guan and begin to strategise to win the seat back.
He said the Party had decided to embark on decision-guided research in the Volta Region particularly in the Hohoe Constituency ahead of winning the 2024 general elections.