The National Democratic Congress, NDC's National Executive Committee, NEC has unanimously approved the People's Manifesto.
The approval was given at the NEC's meeting in Accra following a presentation by the party's Manifesto Committee.
READ ALSO: NDC announces sectoral spokespersons for its election 2020 manifesto 
A statement from the party signed by the campaign spokesperson, James Agyenim-Boateng said "The manifesto, which addresses the felt needs of various interest groups and individuals, comes after months of consultations with professional groupings, opinion leaders, market women, groups and individuals from all over the country.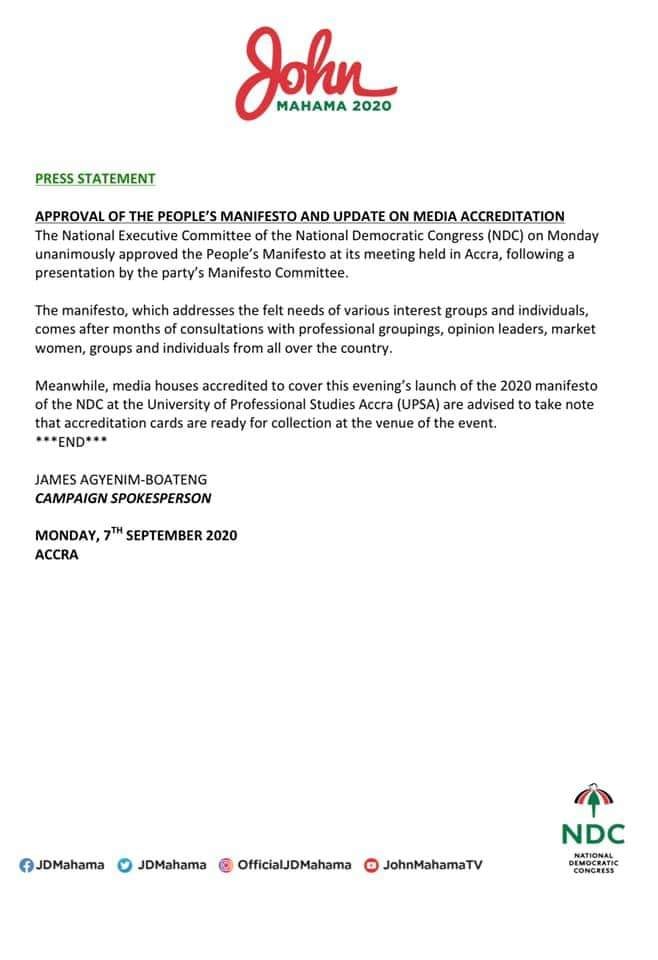 NDC has also announced sectoral spokespersons for its election 2020 manifesto which will be launched today.
A statement from the NDC said they wish to inform the media and the general public about the appointment of various Sectoral Spokespersons to speak to key areas of the party's 2020 Peoples' Manifesto.
The appointed spokespersons who have been tasked by the leadership of the party to work under the Communication Bureau of the party to effectively communicate the programmes and policies captured in the party's 2020 manifesto, will be available for media interviews after the manifesto launch which is slated for today, 7th September 2020.