Vice President Dr. Mahamudu Bawumia has called on state enterprises to embrace and incorporate in their daily operations, government's investment in digitisation.
Dr. Bawumia who was speaking at the 2020 Performance contract signing ceremony in Accra on Wednesday, January 8, 2020, said the support from the enterprises will promote efficiency in service delivery and ultimately increase the realisation of the Ghana beyond aid agenda.
He also announced that government had commenced processes to launch a one-stop portal; Ghana.gov in the first quarter of the year to host all Ministries, Departments and Agencies (MDAs).
READ ALSO: Digitisation will be disruptive to corruption – Bawumia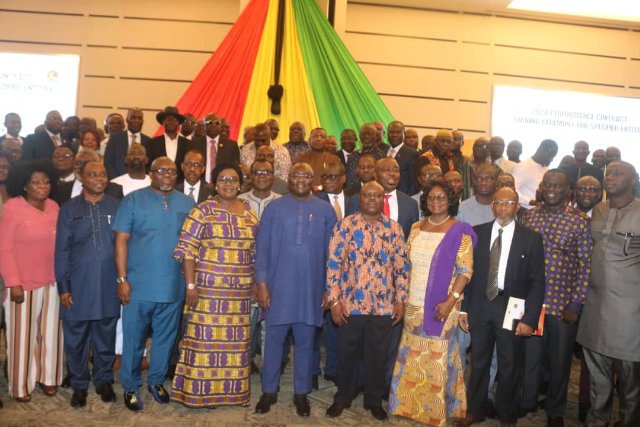 The digital platform, according to him will provide an avenue for clients to engage and conduct business with state enterprises without direct human contact.
Dr Bawumia also added the online portal is an initiative that will be disruptive to corruption in the public sector.
Dr. Bawumia in October 2019 explained the government's digitisation agenda at the Financial Times Summit in London.
He said: "Ghana's digital and inclusive transformation agenda is beyond ensuring the right policy mix, that is, the right mix of fiscal, monetary and external policies. We have decided as a government to focus on how to build a robust micro-foundation of good economic governance. Without these foundational pillars, we will not be successful and will continue to spin in the rut of the weak policy environments."
He further enumerated some of the digitisation innovations and policies being implemented and how the policies are impacting positively on the economy.
These include " the introduction of National ID Cards is a game changer. It will form the basis of an integrated database with Passports, Tax Identification Numbers, and Drivers' Licences etc; Digital Property Addressing has provided every location with an address leveraging on GPS. The process of tagging 4 million houses with digital addresses is on-going and should be completed by the first quarter of next year.
"A biometric national identity and a digital address uniquely establish personal and immovable property identity; Digital drivers' licenses and digital vehicle registration have been implemented and this has eliminated the intermediaries or middlemen and corruption at the Driver and Vehicle Licensing Authority.
"Mobile money payments interoperability has been implemented. There is full interoperability of mobile wallets across various telcos as well as between mobile wallets and bank accounts; Drones and decentralised delivery of health services and also digitising hospital records to improve the efficiency of healthcare delivery.
READ ALSO: Bawumia urges Ghanaian clubs to adopt digitization to maximize profit
"The digitisation of the Registrar General's department which has made the registration of businesses easier; Paperless ports; and Digitisation of court records and processes."