Minority members on the cash-for-seat committee task by Parliament to probe allegations against the Trade Ministry for charging between $25,000 and $100,000, to enable expatriates to sit close to President Akufo-Addo at the Ghana Expatriates Business Awards said the Trade Ministry has engaged in serious ethical violations.
The two members from the Minority side, James Klutse Avedzi and Dr. Dominic Akuritinga Ayine in a dissent report said: "The Trade Ministry and Industry engaged in serious ethical violations by allowing its credibility as a public agency to be used to amass profit for a private non-profit organization which it cannot hold to public standards of accountability as well as by using the name of the President of the Republic as a means to make such profit."
The report was released by the Minority member on the cash-for-seat Committee Dr. Dominic Akuritinga Ayine on Friday, February 2.
According to him, the Chairman of the committee Kwasi Ameyaw-Cheremeh has refused to include the Minority's view in the final report before presenting it to Parliament.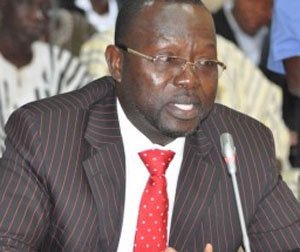 The report from the Committee has been laid before the House on Friday, February 2.
In a radio interview, Dr. Dominic Akuritinga Ayine said the Majority side of the committee seeks to totally exonerate the Trade Ministry and organizers of the event Millennium Excellence Foundation.
The report also stated that the Trade Ministry contravened existing law on public financial management, particularly the Financial Administration Regulations, by allowing the use of an existing account for the receipt of monies that it claimed were private funds.
"The MEF engaged in deceitful practices in the process of the organization of the awards event by selecting companies for awards even when the companies had not submitted information meeting the designed criteria and also forged documents meant to deceive the Committee and Parliament as a whole," the dissent report added.
Minority accuses Trade Ministry of extorting huge monies from expatriates
Some minority members have accused the trade ministry of extortion during the Ghana Expatriate Business Awards organized by the Millennium Excellence Awards.
According to them, the expatriates were made to pay as much as $100,000 for the privilege of sitting next to the President.
www.primenewsghana.com/ Ghana News