---
Ghana were stunned by Kenya 1-0 the likes of Ivory Coast, Egypt all picked up wins in their respective games.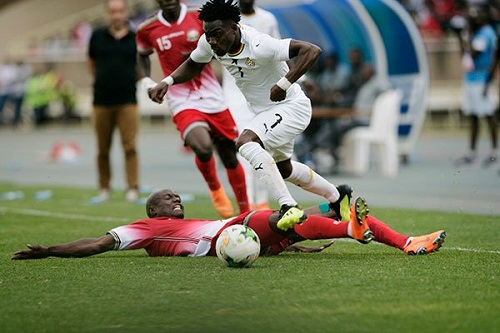 Salah was the talk of the day as he scored twice and missed two penalties as well but Egypt ended up beating Niger 6-0 in the 2019 Afcon qualifiers.
Ivory Coast picked up their first win as they beat Rwanda 2-1.
Read also:Black Stars coach to hold talks with Asamoah Gyan and Ayew brothers

2019 Afcon qualifying results
Comoros 1-1 Cameroon
Seychelles 0-3 Nigeria
Kenya 1-0 Ghana
South Africa 0-0 Libya
Uganda 0-0 Tanzania
Namibia 1-1 Zambia
Equatorial Guinea 1-0 Sudan
Gabon 1-1 Burundi
Mozambique 2-2 Guniea Bissau
Gambia 1-1 Algeria
Mauritania 2-0 Burkina Faso
Egypt 6-0 Niger
Morocco 3-0 Malawi
Madagascar 2-2 Senegal
Eswatini 0-2 Tunisia
Ethiopia 1-0 Sierra Leone
Lesotho 1-1 Cape Verde
South Sudan 0-3 Mali
Rwanda 1-2 Ivory Coast
Congo 1-1 Zimbabwe
Angola 1-0 Botswana
Liberia 1-1 D.R. Congo
Togo 0-0 Benin
Guinea- 1-0 Central Africa