Court of Arbitration for Sport (CAS) will today deliver the verdict on the case between Wilfred Osei Kwaku affectionately called Palmer and the Ghana Football Association (GFA).
The Sports court tribunal last month adjourned the ruling which was supposed to be out on Friday, July 17 to August 4.
A statement signed by the Counsel of CAS, Carolin Fischer, read: On behalf of the Deputy President of the CAS Appeals Division, please be advised that the time limit to communicate the Arbitral Award to the Parties, pursuant to the Article R59 of the Code of Sports-related Arbitration, has been extended until 4 August 2020.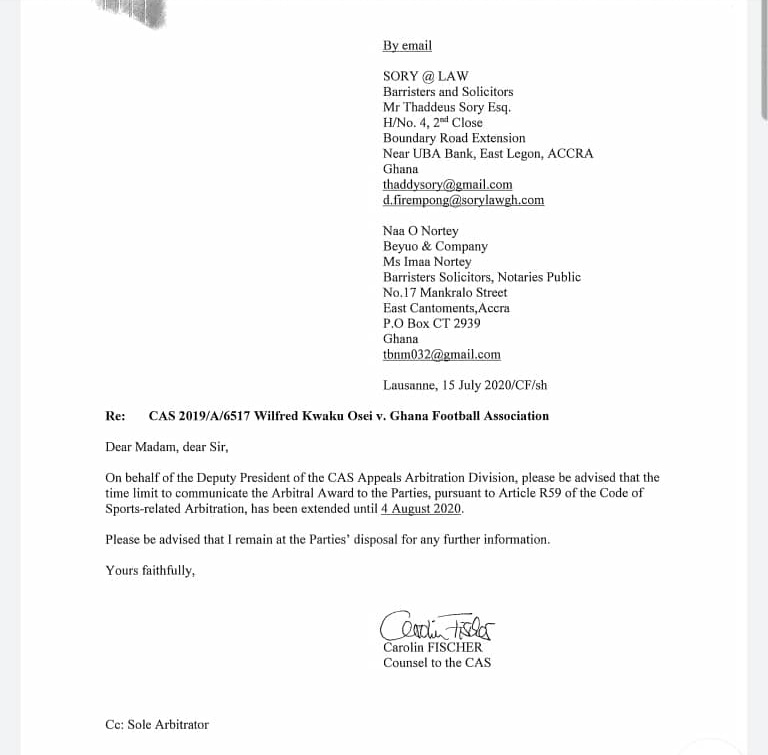 Tema Youth bankroller Palmer is in court after he was disqualified from the Ghana Football Association presidential race, which saw Kurt Okraku emerging as the winner.
The outcome could either legitimise the tenure of the incumbent GFA president, Kurt Okraku, or require a fresh election involving the plaintiff, as Palmer.
But irrespective of the outcome, former GFA vice President Fred Pappoe who was also a Presidential aspirant in the 2019 GFA elections, has advised the feuding parties in the legal tussle to peacefully embrace the outcome of the CAS verdict.
"This is a simple case but very important to Ghana football. I hope this case will put a lot of things to rest," he told Happy FM.
"First the case looks at one person who believes his right to seek office as FA President was taken away from him. So it is his right to seek redress on the matter.
"Secondly if the decision was taken and then whether to organize a new election.
"I think the decision to strip him of his right from not contesting is painful.
"I am sure CAS will give more clarity on this issue in their ruling on this 10 per cent transfer fee. We should all accept whatever comes out of the ruling and move on with our life's," he added.