Manchester City Ghana (The largest Machester City fan base in Ghana) have caused fear and panic in the camp of their opponents as they have promised to win the 5th Edition of the Arsenal Ghana Annual Fun Games.
The team who came second in the previous edition have now talked up their chances of winning the 5th edition.
Coach of the side Eric Mensah will put on his Pep Guardiola cap and perform magic for his side.
He has promised that his team will not only come with an aim of winning the coveted trophy but also to dazzle and entertain the crowd.
Manchester City Ghana will be coming with their own versions of KDB, Sterling, Aguero among others.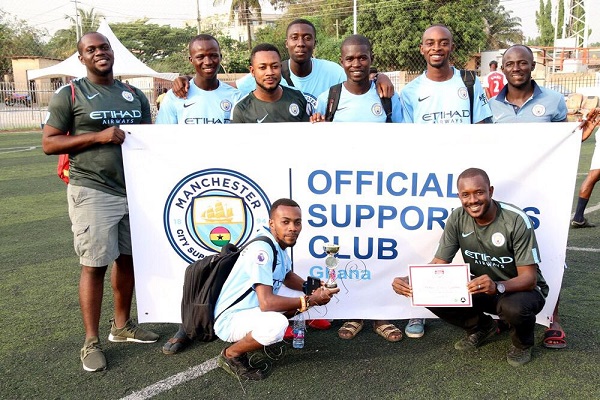 Players like Scotch, Gabby, Nasiru and captain Zydan will all be available for selection.
Their confidence and optimism of winning the trophy has already caused fear and panic in their opponents.
Seven teams will go head to head to see who emerges victorious on the day.
1. ASCG
2. GH Reds
3. GH Spurs
4. GH Citizens
5. Blue Sports Center (Chelsea)
6. 4syte Fun Club
7. Sports Insight
Other games like Oware, chess and cards will all be on display.
The games are not only for pleasure as it provides a platform for many football fans to network and connect with each other.
The games are scheduled for December 29, and begins exactly 10: am.