As part of marking their 109th anniversary, the Board Members of Hearts of Oak has delivered their message of 'hope' to the supporters.
The club in a notice signed by Board member, DR Nyaho Nyaho-Tamakloe said: As we celebrate this day, we wish to thank all our cherished supporters both home and abroad, our sympathisers and those who have in diverse ways contributed to the great history, tradition and the unique Phobia brand.
The statement further added: As we thank all stakeholders and wish them happy celebrations, we wish to assure them that the club has never been in a better position to stride into the future renewed excitement alone but also with all the confidence considering the modern foundations being laid bare.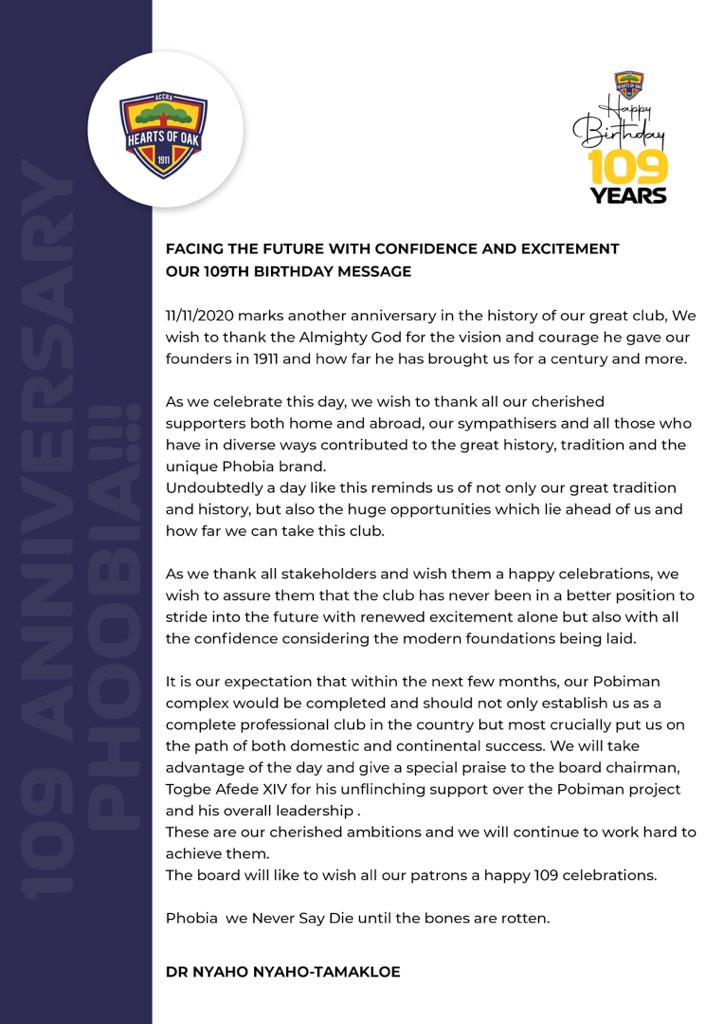 Hearts was formed on the 11th of November 1911 is one of the most successful clubs in Africa with twenty league titles, ten FA cups, two president's cup and three trophies on the continent.
READ ALSO:  'May our birthday wishes stay with you forever like the 4 - 0 thrashing we gave you' - Hearts of Oak celebrates Kotoko at 85 ...
The club was formed in Ghana on 11th November 1911 by a group of young men led by Christopher Brandford Nettey (later Asafoatse Nettey), a war leader of the Ga State in the colonial times and his other colleagues, Sinon-Okraku brothers (Adolf, Alfred and Wilhelm), J.T .O Ankrah, J.A Aryee, Dodoo Annang, Darku Abbey, Mark Nettey, the Solomon duo (Amponsah and Kwashie), the Bruce-Tagoe brothers (W.W and T.F), Willie Ocran, TF Wilson, JDK Botwe, FD Amoo, Peter Malm and Quarshie Coker, Akom Duncan, all players of the team.
The Rainbow club was ranked 8th as the best club in the world by CNN in 2001.
The Accra giants have struggled for on-the-pitch success in recent times. The last time they won the Ghana Premier League was back in 2009.