Newly-signed Dreams FC striker Joseph Esso says he can't wait to start paying the club for the trust reposed in him.
Esso on Thursday became the latest player to join the Still Believe lads ahead of the upcoming 2020/2021 season on a two-year contract.
The striker joined the Dawu-based side as a free agent after extending his stay with Hearts of Oak last week.
Speaking for the first time since putting pen to paper to complete Dreams FC switch, the Black Stars B striker said  "words cannot describe how I feel at the moment. Honestly, it really feels great to join one of the best clubs in Ghana. I really admire how the club operates and I am excited to be part of the family.

"Dreams FC is fast becoming one of the best clubs in the Ghana Premier League, I looked at the club's project and wanted to contribute and be part of the dream."
READ ALSO:Video: Dreams FC unveils former Hearts of Oak striker Joseph Esso
Esso added that he won't find difficulty in adapting to his new environment as the player will help him settle quickly due to the relationship he has with some of them at the national team level.
He maintained that he is eager to meet his new teammates.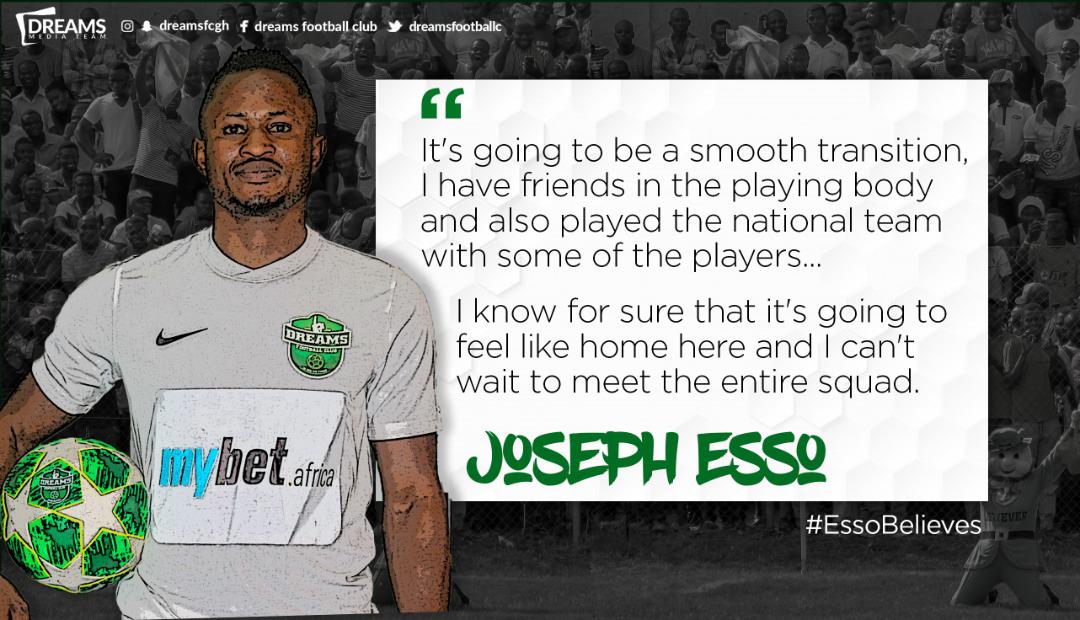 Joseph Esso will have to wait a little while to get started as football activities in the country has been suspended due to the Covid-19 pandemic however, the Ghana Football Association as announced there the 2020/21 will commence on the second week of October pending approval from governement.