The Ministry of Youth and Sports on behalf of the Government and the people of Ghana have wished Isaac Dogboe well ahead of tonight's bout against Chris Avalos.
The Sports Ministry in a statement said they are confident the former WBO Super Banteerweight champion, Dogboe will come out with flying colors against the Mexican American boxer.
They advised Dogboe not be weary in the ring but fight with all his strength as the whole nation is solidly behind him.
Also, the Ministry in the statement called on Ghanaians rally their support behind the 25-year-old in his quest to make the nation proud.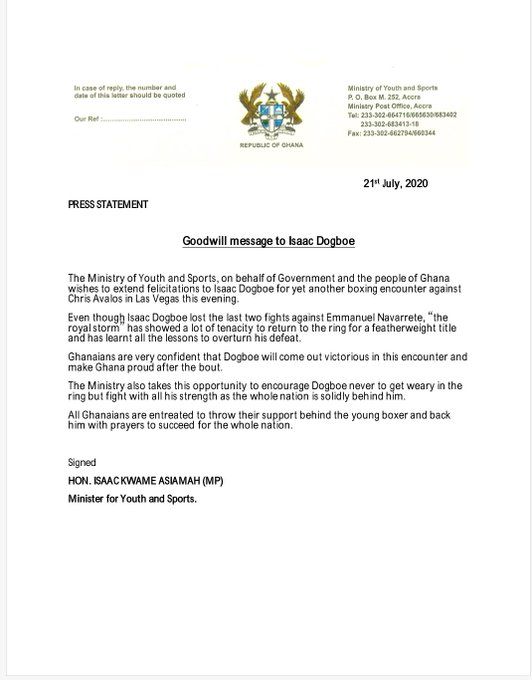 Meanwhile, Paul Dogboe has predicted knockout victory for his Isaac Dogboe tonight's clash.
Speaking ahead of the bout, Paul Dogboe who is no longer training his son noted the former WBO Super bantamweight champion is in the right hands. 
Issac Dogboe who goes into the bout in what is a career-defining moment for him is now being trained by Patrice Harris and Barry Hunter. 
"He knows what to do he's got the best with him all the time. Ever since started boxing he's been taught what to do and what not to do. I will say he is with the best the feeling it just normal to me."Paul Dogboe said as reported by 3 FM.

"I know he is going to pull through he is a strong and determined fighter. He will knock Chris Avalos out easily if Avalos stands and fight with him toe to toe I think Avalos will go but if he uses his range then I think Isaac will beat him on points."