Usain Bolt made his football debut for an Australian professional team on Friday, running out as a substitute for the final minutes of a pre-season friendly as he set about launching his new sporting career.
The world's fastest man was given longer than the sub 10-second bursts with which he made his name – but with only 19 minutes left on the clock he had little chance to make an impact when he appeared off the bench for the Central Coast Mariners.

Almost 10,000 people turned out to watch the eight-time Olympic Gold medallist in action, higher than the club averaged for league games last season.

The tall number 95 – a cheeky reference to his 100m world record of 9.58s -  showed a clumsy first touch as he settled into position on the left wing but offered a hint of more to come as he twice roared into scoring positions only to fluff his lines, scuffing one shot wide and just failing to meet a dangerous cross.
"I was a little bit nervous, but as soon as I got on the field I think the nerves went away," he told broadcaster Fox Sports. "I wish I had more touches, but I'm not fit yet. I've just got to put in the work and get up to speed."
The 32-year-old has been given a tryout with the Australian A-league club based in Gosford, north of Sydney, as he works to secure a professional contract.

The Mariners already had a commanding lead when he was sent on, and ultimately ran out 6-1 winners over a  Central Coast Select XI.

Bolt's footballing ambition has frequently been dismissed as a publicity stunt but he insists his dream is realistic.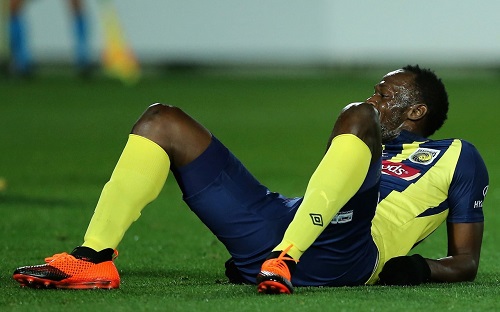 He predicted it would take four to five months before he was up to standard.

"I think the first 15 was pretty good, the last five I could feel my back getting a little bit tight.

"But overall I wasn't too tired so that's a good sign," he said.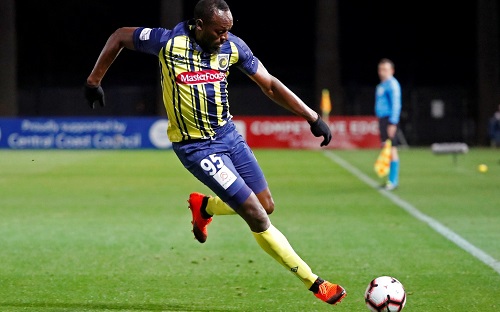 "I think probably in the next month I should be up and running at speed."

He added that he realised he needed to work on his off-the-ball movement and positioning

"In four months' time, I'll be fit, be getting a lot more time on the ball. I personally feel I will get a contract by then, I will be playing for much more time," he said.

"I feel like that with track and field, it's not that rough on your body.
Read also:Usain Bolt has 'a lot of work to do' to make it in football, Dortmund manager
"We don't have a lot of contact so I don't think it's hard on my body.

"So I think I'm good for five years. I'm in good shape. I'm feeling young and I'm ready to go."

Mike Mulvey,  head coach,  said: "I thought the big fella did OK. He's a confident guy."

Source: telegraph.co.uk