Trump administration officials who find themselves beset with scandal or disgrace often muster a defense according to how they believe the President will respond as the "audience of one" scrutinizes their performance on a Tivo-ed recording of Fox News.
Over the past month, as Judge Brett Kavanaugh and his confirmation team navigated allegations from woman that he had sexually assaulted them in high school and college, a new -- and for some, an unfamiliar -- dynamic was at play.
Like his beleaguered predecessors, Kavanaugh recognized the President's own perception of him would largely depend on what he saw on his television screen. But he also recognized it was not Trump's view that mattered, but the four fence-sitting senators whose votes would determine his fate.
Over the course of a rancorous and divisive three weeks, Kavanaugh has been bolstered by a White House and Republican leadership intent on securing a fifth conservative justice on the high court, reshaping its balance of power. He has also benefited from a long tenure in Washington, with the connections and know-how to run a self-preservation campaign that drew on a close-knit high school community, his colleagues from the Bush era and the conservative media.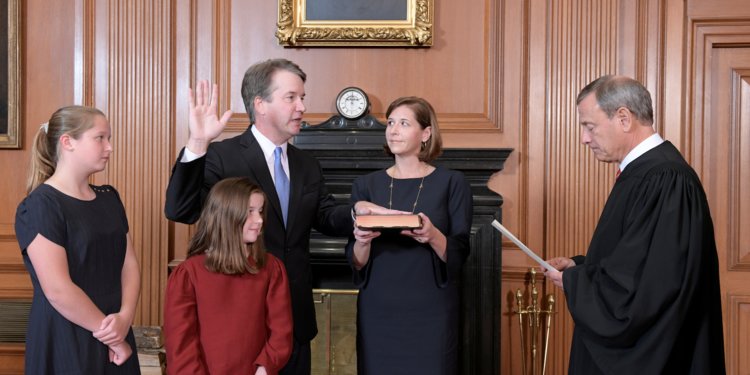 What he could not draw upon was a lengthy relationship with the President, who amply defended him but found himself admitting this week he barely knew the man he nominated.
"I don't even know him, folks. I don't even know him," Trump told a campaign crowd in Mississippi on Tuesday. "I met him for the first time a few weeks ago."
The President's introduction to Kavanaugh was orchestrated by Don McGahn, the White House counsel who viewed a second Supreme Court nomination process as his final act in the West Wing (the President summarily announced on Twitter in late August that McGahn would depart the administration once Kavanaugh was confirmed).
McGahn and Kavanaugh are longtime friends; both served in President George W. Bush's administration and have deep ties to Washington's legal community.
In the early stages of Kavanaugh's nomination, McGahn and a team of White House officials oversaw the judge's courtesy calls on Capitol Hill and preparations for an initial set of hearings that came and went without much fanfare.
But as the allegations of sexual assault emerged in mid-September, a crisis management approach took hold, with Kavanaugh himself at the center of an effort to repair his reputation and salvage his prospects of becoming a Supreme Court justice.
An initial approach that offered firm -- but still respectful -- denials eventually morphed into the indignant, politically-tinged rebuttal of "smears" that Kavanaugh offered in testimony before the Judiciary Committee.
Read also:
Brett Kavanaugh: Hundreds arrested in Supreme Court protest
In statements released through the White House, Kavanaugh's denials began stoically -- "I categorically and unequivocally deny this allegation," he said of Christine Blasey Ford's claim he sexually assaulted her in high school — but became steadily more forceful: "This is ridiculous and from the Twilight Zone," he said of Julie Swetnick's accusations he plied women with alcohol in college.
Meanwhile, Kavanaugh was reaching out himself to former classmates, hoping to ensure they didn't speak poorly of him to the press. A series of text messages and phone conversations from mid-September reveal how closely Kavanaugh was involved in contacting former Yale classmates who spoke to reporters about allegations of wrongdoing during his college years.
Source: cnn