Hamas militants have launched dozens of rockets at Israel after Israeli air strikes killed senior commanders and felled another tower block in Gaza.
The escalation, which began on Monday, has triggered street violence in Israel between Jews and Israeli Arabs.
In two incidents, a Jewish man in Acre was attacked by Arab men, and a Jewish mob pulled a Palestinian out of his car and beat him up in Bat Yam.
At least 67 people in Gaza and seven people in Israel have been killed.
The fighting erupted on Monday after weeks of rising Israeli-Palestinian tension in East Jerusalem which culminated in clashes at a holy site revered by Muslims and Jews.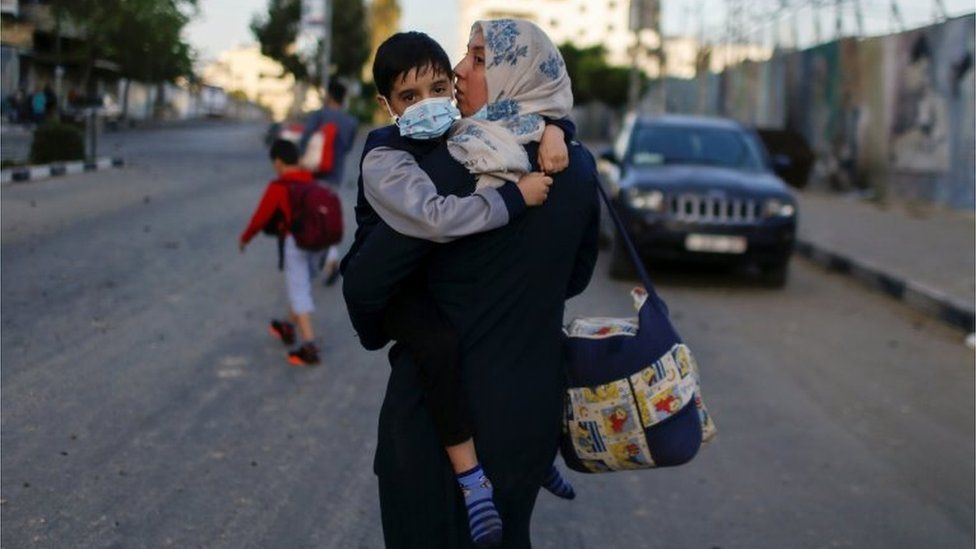 More than 374 people were arrested and 36 officers were injured after clashes in Israeli cities, Israeli police said.
Prime Minister Benjamin Netanyahu, speaking late on Wednesday night, said he planned to send in military forces to help police maintain order in cities ruptured by violence.
Mr Netanyahu said the attacks in recent days amounted to "anarchy".
"Nothing can justify an Arab mob assaulting Jews, and nothing can justify a Jewish mob assaulting Arabs," he said in a video statement, as reported by the Times of Israel.

Palestinian militants have been firing rockets into Israel since Monday night, and Israel has responded by hitting targets in the territory.
On Thursday morning, the IDF said about 1,500 rockets had been fired from Gaza into Israeli cities since hostilities escalated at the start of this week.
The Hamas-run health ministry in Gaza says that more than 400 people have been injured there since the conflict began, in addition to the 67 who have died.
Mr Netanyahu said the government would use all its strength to protect Israel from enemies on the outside and rioters on the inside.
But the Palestinian Authority condemned Israel's "military aggression" in a tweet, saying it was "traumatising an already beleaguered population of two million people".
What happened on Wednesday?
Militants in Gaza said they had fired 130 rockets into Israel in response to an Israeli aid raid which destroyed the al-Sharouk tower in Gaza City.
The tower, which is the third tall building to be destroyed by air strikes this week, housed al-Aqsa TV, the station run by Hamas.
Israel said it had killed senior Hamas officials in Gaza, and was also targeting missile launching sites. Hamas confirmed a senior commander and "other leaders" had died.
The Israel Defence Forces (IDF) said on Wednesday that their strikes on Gaza were the largest since the conflict in 2014.
Residents had been warned to evacuate the buildings before fighter jets attacked; however health officials said there were still civilian deaths.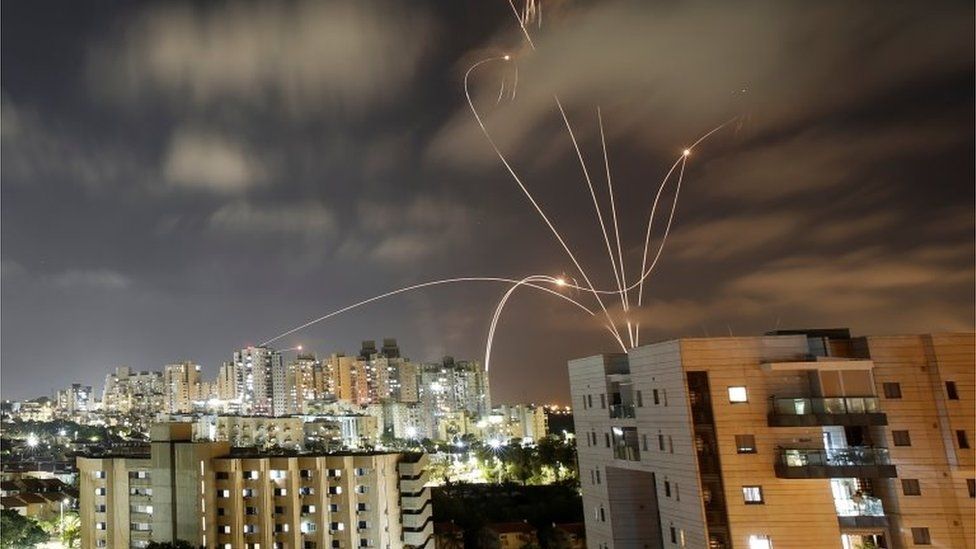 Five members of one family were killed in an air strike on Tuesday, including two young brothers, according to AFP news agency.
"We were laughing and having fun when suddenly they began to bomb us. Everything around us caught fire," their 14-year-old cousin, Ibrahim, said, breaking down in tears as he described their death.
Meanwhile millions of Israelis were in bomb shelters on Wednesday evening, according to the IDF, after sirens warning of rockets sounded across the country.
Anna Ahronheim, the defence and security correspondent of the Jerusalem Post, described spending Tuesday night in a shelter with her five-month-old baby.
"To hear hundreds of interceptions and even to hear rockets fall near us was horrifying," she told the BBC.
A child killed in the Israeli town of Sderot was named as Ido Avigal, aged six, who was caught in an attack on a block of flats.
BBC