Social media has been rife with claims that Democratic Presidential Candidate, Hilary Clinton has been replaced with a doppelganger after she wobbled and was rushed to her daughter, Chelsea's apartment to be treated.at the 9/11 memorial on Sunday. 
Doctors later confirmed the 68-year-old to be suffering from pneumonia and she was later released but according to the conspiracy theories on social media, Hillary used a body double after she suffered a dizzy spell 
Photo comparisons of the Mrs Clinton candidate have emerged 'showing' supposed 'physical differences' in the Clinton that was seen emerging from her daughter's house after the medical episode.
Check out the photos/tweets: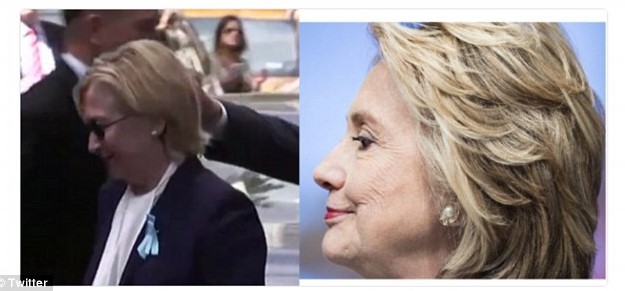 Clinton was seen smiling and waving at customers at a nearby restaurant before getting into a van. Conspiracy theorists questioned why she would hug a young girl if she was sick 
One woman claimed that the woman who left Chelsea's apartment couldn't have been Hillary because she wasn't surrounded by 'secret service' agents 
Clinton emerged from her daughter Chelsea's apartment after she was rushed from the 9/11 memorial service because of a 'medical episode'
One Twitter said the smiling Clinton to emerge on Sunday was 'too young, too thin' 

What do you think?