Popular actor and a sympathizer of the opposition NDC,  John Dumelo's name has been trending on social media since Friday morning for allegedly owning  two vehicles belonging to the state. 
According to reports, John Dumelo  sent one of the alleged stolen state vehicles to the auto mechanic to change it to his preferred colour.
However, the actor since the story broke, has not denied or confirmed it, but rather posted on instagram;
"life is too short, Why is there so much hate, anger and revenge?"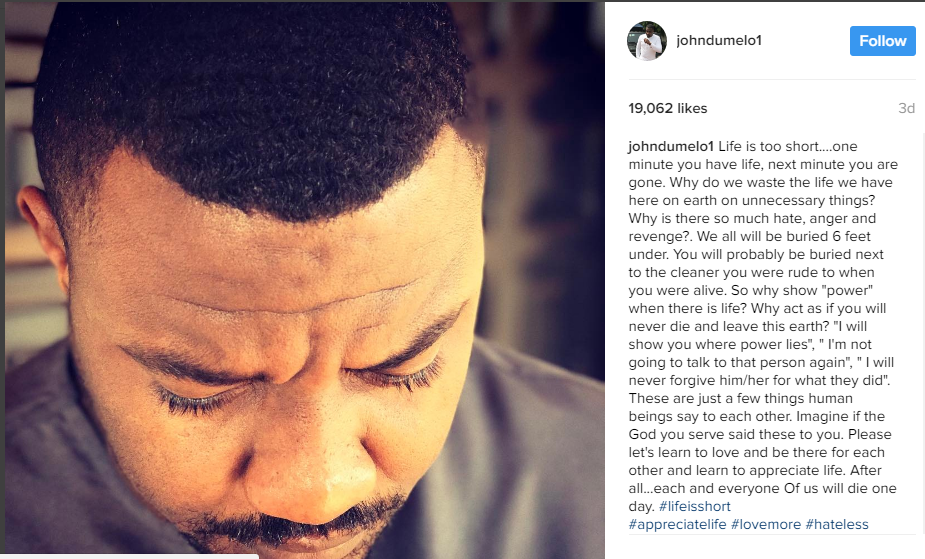 According to primenewsghana sources close to the NPP  task force in charge of retrieving the missing state vehicles,
John Dumelo had two state V8s in his possession, he sent one of the cars which was quite new to a spraying shop to spray it, being a relatively new car which needed  not to be sprayed, one of the workers at the sprayer's shop gave a tip off to the task force. 
Also, the Task Force came to the shop to ask for the person who brought the car for spraying, John Dumelo's name was mentioned and task force asked those at the shop to call and inform him [Dumelo] that they had finished spraying so he could come for it without revealing to him they [task force] were around.
Futhermore, Dumelo came and fell into the ambush and after he was questioned about the car, he claimed he bought it from SVANI LTD on credit and was still paying for it. But a check of the chassis number [VIN Number] revealed that the  the car belonged to the state, the National Security to be precise.
When the Task Force probe further, John Dumelo said the vehicle was given to him by the former first Lady Lordina Mahama and begged the Task Force not to call her to confirm.
After constant interrogation by the Task Force, they later found out that John Dumelo  had two of those V8s cars and had given one to his girlfriend who is currently out of the country to use.