Superhero film Black Panther has won the top prize at the Screen Actors Guild Awards (SAGs). 
The box office hit picked up the best ensemble cast award in a motion picture, the SAG ceremony's closest thing to the best film prize.
Asked if Black Panther had changed the film industry, lead actor Chadwick Boseman replied: "My answer to that is... to be young, gifted and black."
Read Also: Black Panther hero apologizes after leaked videos expose him as a 'gay porn actor'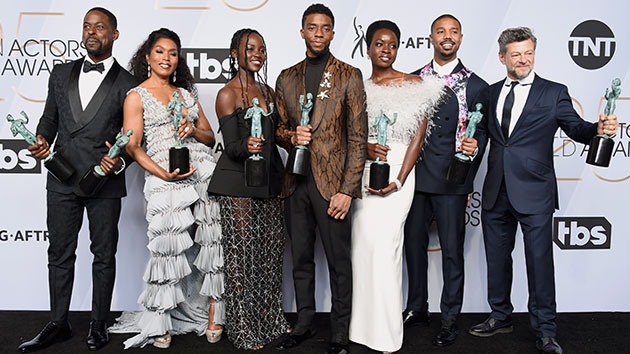 British winners included Emily Blunt for her performance in A Quiet Place.
The actress picked up the prize for best supporting actress for the film, which was directed by and co-starred her husband John Krasinski.
She looked shocked as she accepted her award: "I am going to share this completely with my husband, John Krasinski because the entire experience of doing this with you has completely pierced my heart directly. You are a stunning filmmaker."
Read Also: 11 movies to look out for in 2019
The Brits among the ensemble cast for Black Panther include Andy Serkis, Letitia Wright, and Martin Freeman.
The SAGs have well and truly blown the Oscars race wide open, with Black Panther now being considered as a serious contender for the best picture Oscar.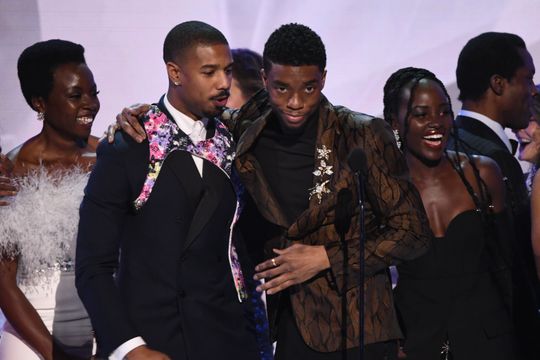 Bohemian Rhapsody picked up that prize at the Golden Globes, while Green Book won at the Producers' Guild of America Awards.
Source: BBC