The government of Ghana is focused on creating jobs for the youth of this country.  This is evident in programmes such as "One District, One factory" and "Planting for food and jobs".
However, successful implementation of the free SHS policy means that more Ghanaians will have the opportunity to enter tertiary education in the next few years.  Those entering Senior High School in 2017, who will subsequently enter university, are likely to be on the job market in 2025, all things being equal.  This implies that the number of graduates who will be pursuing employment opportunities beyond 2025 will increase significantly.  In addition, these graduates will be looking for high-level jobs which are non-existent and take a longer time to create.  There is therefore the urgent need for policy targeted at creating young entrepreneurs who will not only create employment for themselves but also for future graduates.
Specifically, entrepreneurship in the ICT sector has the potential of producing high-level jobs that will appeal to our young tertiary students and graduates while making us an ICT hub in the ECOWAS sub-region as envisaged by the authors of the 2003 "Ghana ICT for Accelerated Development (ICT4AD) policy".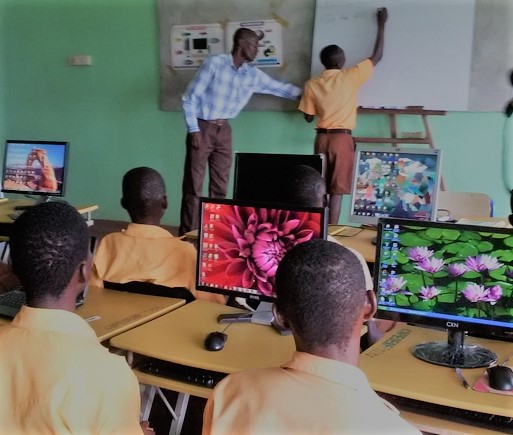 The country is already experiencing an increase in ICT entrepreneurs.  For instance, in East Legon alone you can find several of these ICT start-ups. The Meltwater Entrepreneurial School of Technology's Entrepreneurship-in-Training programme has demonstrated that ICT entrepreneurs can be made in Ghana. This programme has already produced start-ups such as Dropifi, MeQasa, Asoriba, etc. some of which have caught the attention of venture capitalists outside Ghana. There is also Ashesi University whose graduates have gone on to establish ICT start-ups like DreamOval and Soronko.
The examples of Ashesi University and Meltwater clearly brings to the fore how educational institutions can indirectly create jobs by supporting students to become entrepreneurs especially in the area of ICT. I believe the modest achievement of these institutions should shape our educational policy and inspire our universities to rethink the content of their curriculum.  Tertiary education must not only teach students subjects in their primary area of interest but also train them to identify opportunities and convert them into successful businesses.   Teaching entrepreneurship and offering support to students to start ICT start-ups will ultimately require a change in the mission of our educational institutions especially at the tertiary level.  As a country, we must look at areas of partnerships between educational institutions and industry and the sources of funding for these entrepreneurship activities.  I believe public policy can play an important role in facilitating this by encouraging the creation of a vibrant ICT ecosystem.
If high-level jobs are a concern for Ghana, then our universities must promote entrepreneurship.  However, this can only be possible if our tertiary educational institutions are themselves entrepreneurial and innovative.  It is heart-warming to know that our public universities have offices focused on innovation. Nevertheless, this must translate into producing innovative human resource.  Universities require academic staff with the attitude and experience to run entrepreneurial related activities such ICT entrepreneurship competitions and programmes in our universities and colleges in order to inculcate the entrepreneurship culture into students. 
ICT entrepreneurship is particularly challenging in a developing country where the educational system has not been setup to provide the skills necessary to succeed in technology intensive environments.  Our educational institutions must support students by creating entrepreneurship information centres that provide training and access to business networks for mentorship.  This is very common in German universities.  Ghanaian universities must use inter-university collaborations to develop capacity in this area.  Students associations can also organise regular networking events where academic staff, students and entrepreneurs can share ideas.
As mentioned earlier, ICT students need entrepreneurship training outside their program of study targeted at creating start-ups that can grow into technology-intensive organisations.  While this appears to be overly ambitious because of our inability to compete with technology organisations from North America and Europe, the entrepreneurial training must place emphasis on solving local problems with "bottom of the pyramid" strategy.  As a developing country, most of our citizens are low income earners so the bottom of the economic pyramid presents a huge market for inexpensive products and services that can be offered on a large scale.   Since we understand our problems better, this is an area we can compete favourably while impacting the lives of the majority of our citizens.
Even though Meltwater has proved that the idea of ICT entrepreneurship training for our university graduates is a laudable idea, it requires funding.  Both the public and the private sectors have a role to play.  Our public universities continue to admit a significant number of our students despite the increasing number of private universities.  Government funding is therefore needed to train, equip and re-orient our public universities to become entrepreneurial and innovative.  Universities can partner the private sector by jointly establishing incubators that will support student entrepreneurship.  I expect the private universities to also take up this challenge by providing business training, shared office and equipment.  Entrepreneurship support centres and incubators housed in universities will reduce the time from idea conception to the establishment of the business.   An early start will afford entrepreneurs the opportunity to make all the mistakes while they are still young.Universities that diligently support start-ups can benefit financially from revenues earned from spinoffs.
The need of government for job creation, company formation and tax revenue will continue to increase with the rise in population.  As the educated population increases, we cannot create any kind of job as only high-level jobs will appeal to this segment of the population.  With the right educational support, start-ups will not only meet the needs of government but also be the source of innovation for big corporate organisations.  ICT offers that best vehicle for start-ups as it provides so many options for all kinds of business ventures. While it can be argued that the role of educational institutions in creating jobs is indirect, its direct impact on the economy can be massive.
Kuuku Sam, Institute of ICT Professionals, Ghana
For comments, contact author: [email protected] Mobile: 0274333510
Save