Buckingham Palace today announced a period of royal mourning will be observed from now until seven days after the Queen's funeral as the slowing of everyday life in Britain begins to mark the extraordinary reign of Elizabeth II.
The new King confirmed his wish to hold an extended period of royal mourning, lasting a week until after his mother's funeral, the full details of which have yet to be announced.
Flags at all royal residences will remain at half-mast until 8am on the morning after the period of royal mourning officially ends.
The period will be observed by all members of the royal family, household staff and representatives of the royal household on official duties. Troops committed to ceremonial duties are also expected to observe.
READ ALSO: Akufo-Addo directs all flags to fly at half-mast in honour of Queen Elizabeth II
Charles and his wife remained at Balmoral overnight after racing up to Scotland to be at the bedside of the Queen, whose death was announced to the nation yesterday evening.
He will return to the capital today, before meeting Prime Minister Liz Truss and making a televised statement at 6pm.
'London Bridge is down' – Buckingham Palace's behind-the-scenes code for Queen Elizabeth II's death – triggers a period of mourning in which normal life in the UK will dramatically slow for the next ten days.
Due to the announcement coming so late in the day, at 6.30pm, the meticulously-planned programme of events for the aftermath of the Queen's death has now moved back a day - meaning D-Day or D+0 begins today.
The complex strategy, a major undertaking on an unprecedented stage, for the final farewell to Elizabeth II will be formally set in motion once approved by King Charles III.
READ ALSO: Queen Elizabeth II has died, Buckingham Palace announces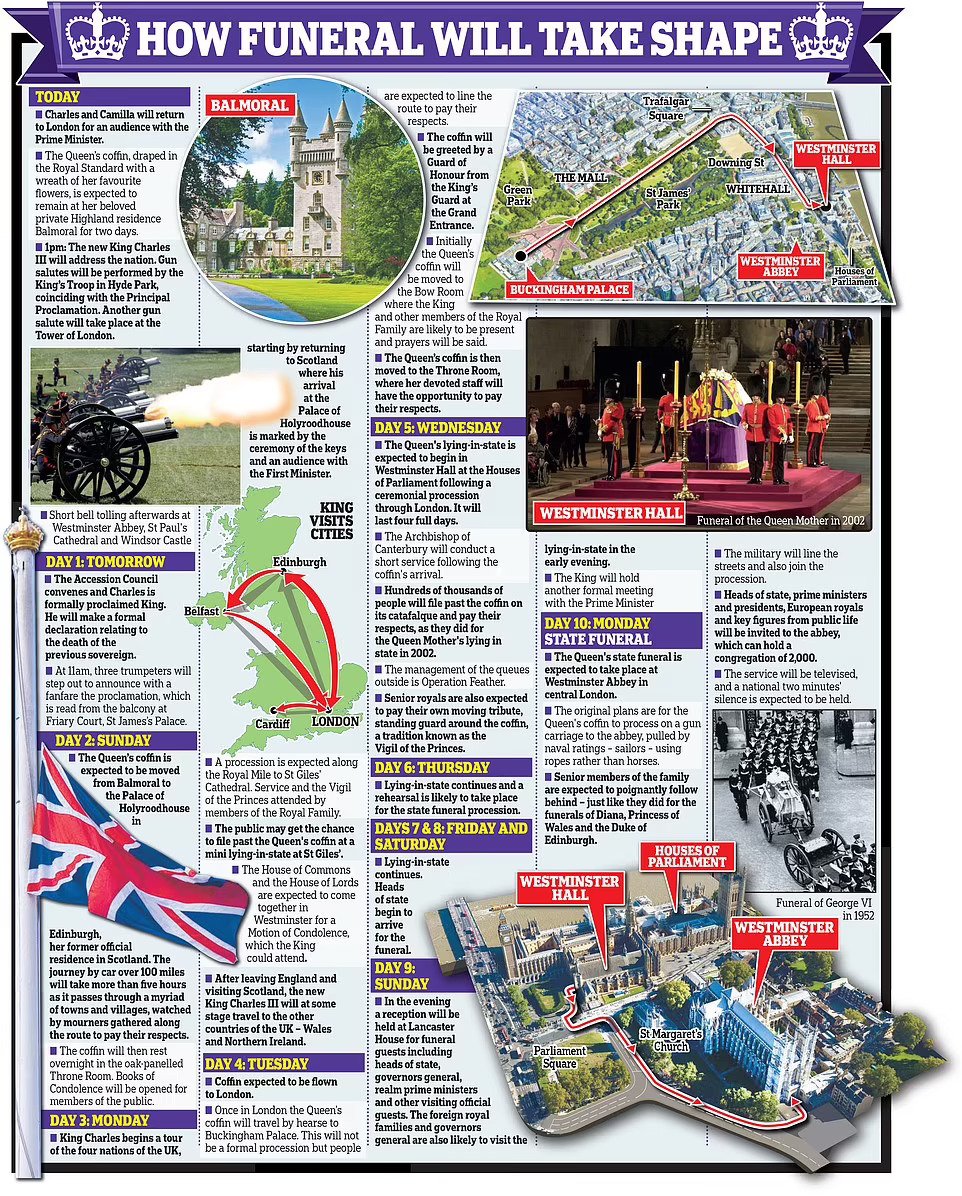 As Her Majesty's death occurred in Scotland, a contingency plan known as Operation Unicorn has been triggered. The mythical creature is Scotland's national animal.
Part of the long-held London Bridge arrangements, Unicorn sets in motion additional ceremonial events in Edinburgh ahead of the logistics of bringing the Queen back to London.
With the monarch spending several months a year at her beloved home in the Highlands, the plans for a Scottish element have been organised for some time.
The Queen's coffin – draped in the Royal Standard with a wreath of her favourite flowers on top – is expected to be at rest in the ballroom of her beloved Balmoral Castle for two days while arrangements are made.
Dailymail