Ghana's President Akufo-Addo has announced a new cocoa price for the 2023/2024 cocoa season from GHC800 to GHC1,308 per bag.
The new price moved the price per tonne from GH¢ 12,800 to GH¢ 20,943.
The new price represents 63.5 percent increment of the previous one.
Speaking on Saturday, September 9 at Tepa in the Ashanti Region, Akufo-Addo said the increment is the highest in West Africa in the last 15 years.
The increment comes after cocoa farmers intensified calls for an upward review of cocoa prices to prevent the prevalence of smuggling and the situation where cocoa farmers give out their lands to illegal miners.
"Until recently, international prices of cocoa have remained relatively low and made worse by COVID-19. In spite of this, government has taken a very hard decision to increase producer prices of cocoa. Cocoa prices have increased from GH¢7,600 per ton in 2016 to GH¢12,800 per ton in 2022. A significant increase of 68 percent. This has had an adverse impact on COCOBOD's financial performance."
"However, the sustainability of the entire industry hinges on the producer being willing to invest in business and be certain that government repays the appropriate price. The international market is beginning to pick and government in keeping with our promise to Ghana cocoa farmers has today increased cocoa beans from GH¢12,800 to GH¢20,943 per ton and GH¢1,308 per bag," he stated.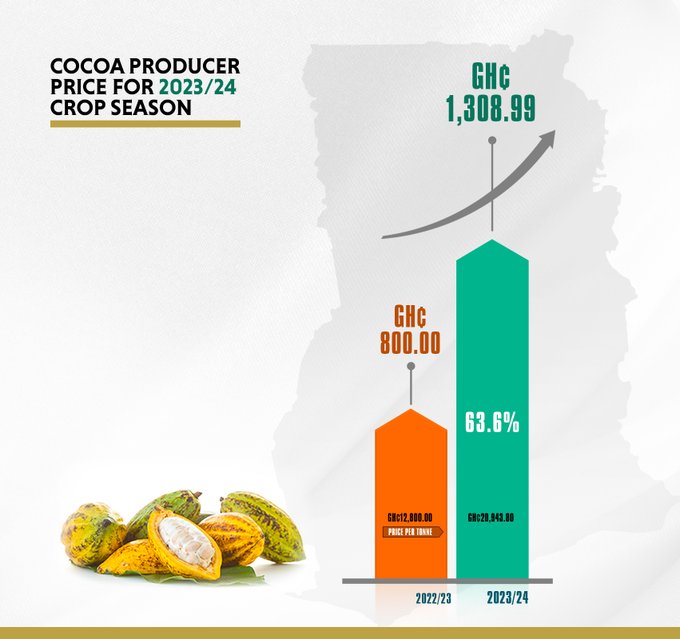 According to the Ghana Cocoa Board (COCOBOD), 150,000 metric tonnes of cocoa have been smuggled out of Ghana in this year alone, a phenomenon they are putting stringent measures in place to address.
On his part, the minister of Agriculture, Bryan Acheampong expressed his outfit's commitment to aggressively addressing the issue of cocoa smuggling.
"I will not disappoint Ghanaians in our quest to stop smuggling. I will not disappoint Ghanaians. We shall see this year if there will be cocoa smuggling," he stated.