3, 000 chainsaw machines used by illegal operators to fell trees within forest reserves in Goaso have been seized by the Goaso District office of the Forestry Services Division (FSD) of the Forestry Commission.

These illegal operators have carried out their operations for the past year.
The Forestry Commision also impounded 18 motorbikes, while 23 persons arrested by a special task force, have either been jailed or fined by the court for indulging in nefarious activities within forest reserves in the area.
Mr Courage Quashigah who is the District Manager of the FSD revealed this when he briefed a team from the Forestry Commission which visited various forest reserves to inspect the re-afforestation projects being implemented by beneficiaries of the Youth in Agriculture and Afforestation Module under the Youth Employment Agency (YEA).
The team, led by the Chief Executive Officer (CEO) of the commission, Mr Kwadwo Owusu Afriyie, was in the Brong-Ahafo Region to inspect the ongoing afforestation projects being implemented in the Bechem, Goaso and Kintampo districts of the FSD by YEA beneficiaries.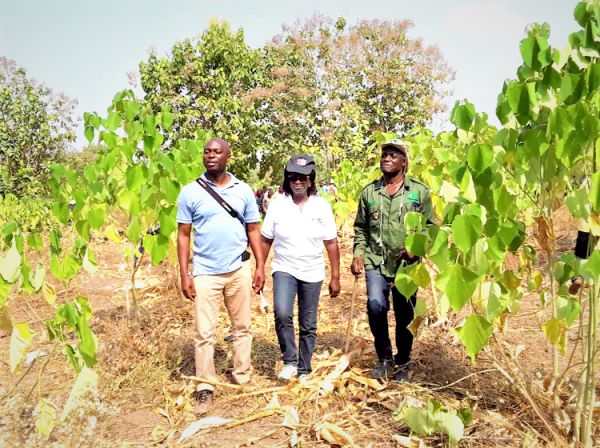 Mr Hugh Brown, (left) and Dr Ebenezer Djagbletey (right), Brong Ahafo Regional Manager of the Forest Services Division inspecting the afforestation project in the Kintampo Forest. With them is Ms Joyce Kwafo, Public Relations Manager of the Forestry Commission.
Mr Quashigah said people are now afraid to enter various forest reserves to cut trees after they launched 'Operation halt illegal chainsaw operation' a year ago.
He explained that the impounded chainsaw machines, table top sawn machines and motorbike belonged to perpetrators who abandoned them and ran away because of the presence of members of the 'Operation halt illegal chainsaw operation'.

"We will continue to fight them and preserve the forest reserves in the area for the sake of both current and future generations", he said, and called for more logistics to support their efforts.

Read also: Commission an equiry over absence of Ga Mantse-Traditional Council to Akufo-Addo
Ghana News: Latest news in Ghana