The Deputy Minister for Gender, Children and Social Protection Mrs Freda Akosua Prempeh, has denounced the abuse of a six-year-old boy at Manhia in the Ga West Municipal District in the Greater Accra region.
According to her, the act was simply an act of wizardry because there are other ways of disciplining children when they go wrong.
Speaking on Adom FM, she indicated that: "This act is simply an act of wizardry, I am not saying children shouldn't be punished, but when a child does something wrong, there are so many ways of punishing the child and not subjecting the child to inhumane acts." 
The six-year-old boy, according to reports was confined in an uncompleted building with his hands rotting away until the stench from his rotten hands attracted a resident in the area who came to his rescue.
The boy's offence was that he allegedly stole meat. He was tortured in his guardian's home after being adopted from his parents in Togo.
READ ALSO: Stepmother convicted after slashing 5-year-old's hand
The little boy is currently under treatment at the Ridge Hospital in Accra and might need additional funds to get fully treated.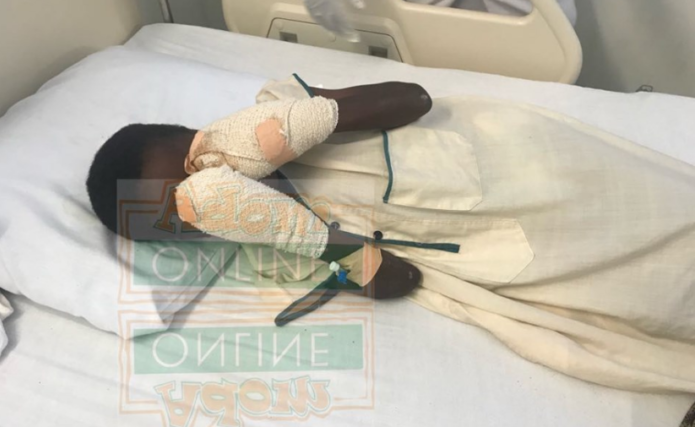 6-year-old boy hospitalized
Photo credit: Adomonline
Mrs Prempeh, who is also the Member of Parliament (MP) for Tano North Constituency, charged parents to be responsible and protect their children from becoming victims of such inhumane acts.
READ ALSO : Akwatia: Mother pours hot water on daughter
She also added that her outfit will ensure cases of child abuse are minimised in the country.