Spanish Prime Minister, Pedro Sanchez has presented a customized Real Madrid jersey to Ghana's President Nana Addo Dankwa Akufo-Addo on his 77th birthday.
Akufo-Addo turned 77 years on Monday, March 29 and was presented with a jersey of the Los Blancos which was signed by several players of the club.
The presentation was done in Spanish capital city, Madrid when the Ghanaian President participated in the "Focus Africa 2023" Conference earlier today.
Akufo-Addo has a strong passion for sports and has made his support for English Premier League side Tottenham Hotspurs and Spanish giant Real Madrid public on numerous occasions.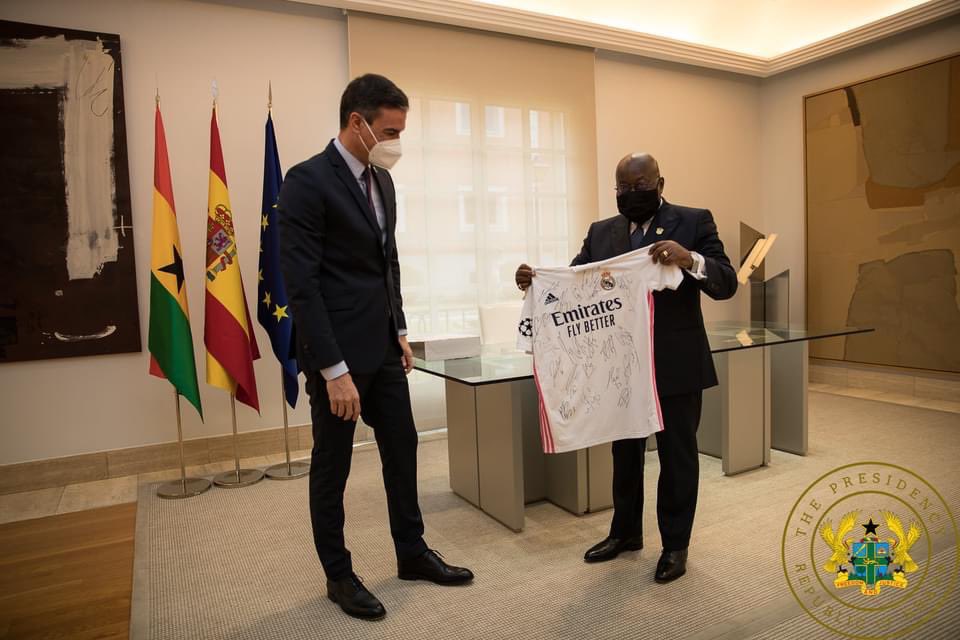 President Nana Addo Dankwa Akufo-Addo Sunday left Ghana for Spain to attend the 'Focus Africa 2023' Conference, being held in Madrid.
READ ALSO:Â A closer look at Prez Akufo-Addo as he celebrates his birthday today (Photos)
Focus Africa 2023, an in-person Conference, defines Spanish foreign action in Africa until 2023, and forms part of the Spanish Foreign Action Strategy 2021-2024.
It includes the specific actions the Spanish Government intends to take with key stakeholders in Africa, including Ghana, and it is aligned with the realisation of the 2030 Agenda for Sustainable Development and the African Union's 2063 Agenda.
The President was accompanied by the Minister for Foreign Affairs, Shirley Ayorkor Botchway, and officials of the Presidency and Foreign Ministry.