Daniil Medvedev reached the US Open semi-finals by beating Andrey Rublev in hot and humid conditions that he said would cause a player to "die".
The third seed appeared to struggle with his breathing but beat his fellow Russian 6-4 6-3 6-4 on Wednesday.
"One player is going to die and you are going to see," he said into a camera during the match in New York.
Medvedev faces Carlos Alcaraz next after the defending champion beat Alexander Zverev 6-3 6-2 6-4.
Spain's Alcaraz, 20, saw off five break points on his way to an efficient victory over the German 12th seed.
Both men's semi-finals will take place at Flushing Meadows on Friday.
Serb second seed Novak Djokovic, bidding for a record-equalling 24th major title, will face young American Ben Shelton in the first match at 15:00 local time (20:00 BST).
'It was brutal'
With a heatwave sweeping over New York, the match between Medvedev and Rublev was played under a partially closed roof on the hottest day of the tournament so far, with temperatures rising to about 35C on Wednesday.
Both players looked physically and emotionally drained as Medvedev - who won the 2021 US Open - eventually wrapped up the match after two hours and 48 minutes before comparing the "brutal" conditions with the weather he experienced during the Tokyo Olympics in 2021.
"The only good thing I see in these conditions is that both [players] suffer. It's tough for both of us," he said.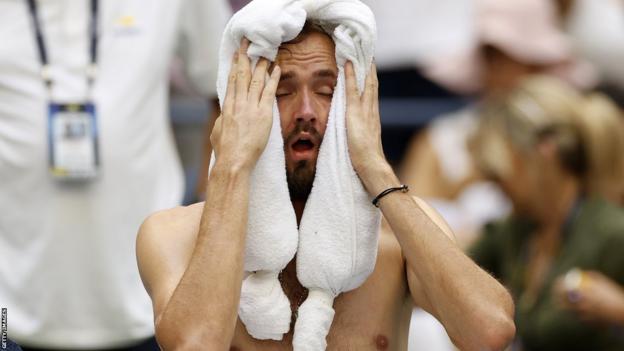 Medvedev and Rublev each took lengthy bathroom breaks between sets for a moment of respite from the heat and to change their sweat-drenched clothes.
The pair also hosed themselves down with cold water, sat under ice towels and made the most of the air conditioning units at their seats.
"At the end of the first set I couldn't see the ball any more. I played with sensations - try to go for it, try to run, try to catch the balls - and he did the same sometimes," Medvedev added.
"A few moments in the third set he was up a break. I couldn't wait to go to the cold shower, but the thing about that is when you come out either you can't move because your body blocks or you feel better."
Medvedev beats best friend to reach semi-finals
While Medvedev has contested four Grand Slam finals, 25-year-old Rublev - who broke into the world's top 10 in October 2020 - is still bidding for a first major semi-final.
World number eight Rublev has lost all nine of the Grand Slam quarter-finals he has played.
The Russian pair have been best friends since the age of six and Rublev is godfather to Medvedev's daughter, with the 2021 champion calling him "family" before their last-eight encounter.
Rublev was a break up early in every set, but Medvedev was able to find a shift in momentum each time despite taking two medical timeouts and using an inhaler as he struggled with his breathing.
The higher-ranked Russian got the key break for 5-4 to serve out the opening set and after being 3-1 down in the second, he won five successive games and left Rublev looking dejected.
With the finish line in sight, and after letting four match points come and go on Rublev's serve, Medvedev wrapped up the victory on the fifth as his opponent fired a forehand into the net.
"I know he never gives up. The thing is he knows I never [give up] too," Medvedev, who has dropped just two sets so far, said.
Alcaraz has too much quality for Zverev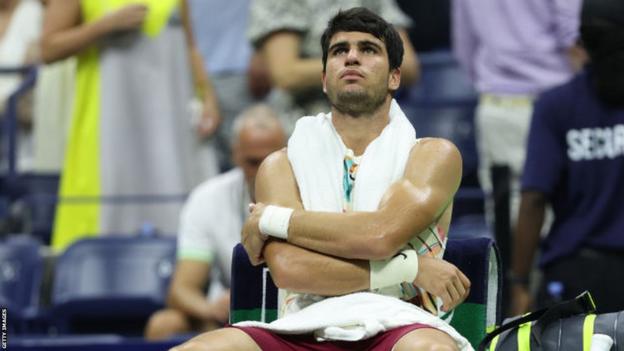 Few have predicted anyone but Alcaraz and Djokovic, the two dominant players in the men's game, to contest Sunday's final.
Alcaraz won the title last year in Djokovic's absence, with the Serb not allowed to enter the United States because he was not vaccinated against Covid, which at that time was mandatory for visitors.
Both players, who produced a gripping Wimbledon final which Alcaraz won, are now one more victory from another showdown.
Zverev became the latest challenger to fall against Alcaraz, who was far from his best against the 2020 runner-up but still had enough quality to come through relatively unscathed.
After saving two break points at 3-3 in the first set, Alcaraz took his opponent's serve in the next game and broke twice more in the second set.
There were question marks over Zverev's physical state coming into the match, with his previous win against Italian sixth seed Jannik Sinner finishing at 01:39 local time in brutally humid conditions.
He is also continuing his comeback from a serious ankle injury which sidelined him for seven months until the start of this season.
Things looked ominous for 26-year-old Zverev when he went off court for treatment on a hamstring injury before the third set, but he recovered sufficiently to create three more break points across the second and fourth games.
However, he could not convert any of them and Alcaraz pounced again.
Going on the attack, Alcaraz hit two superb forehand winners to help him break for 5-4 and served out to reach his third major semi-final of the season.
"I'm feeling really comfortable. I'm showing my best level, feeling strong physically and mentally," said Alcaraz, who swatted aside Medvedev in the Wimbledon last four in July.
BBC