The assault case involving Lance Corporal Godzi Frederick Amanor, popularly known as "Skalla," who allegedly assaulted a woman at the Shiashie branch of the Midland Savings and Loans Company has been adjourned to September 26 to enable one of the lawyers to study the case.
The counsel requested the Court that he needed copies of the charge sheet and facts of the case to study to enable him to defend his client.
Meanwhile, the case has been transferred from the Circuit Court Five to Court Four presided over by Mr Emmanuel Essandoh.
When the case was called, all the four accused persons; Lance Corporal Amanor, Joycelyn Kukua, the Operations Manager, Shirley Portia Anaman, Customer Care Officer and Prince Ayensu, a driver of the company were present.
However, the complainant did not turn up.
Lance Corporal Amanor, as well as his accomplices, have been charged for assault and abetment of the alleged crime respectively. They have all denied the charges.
On July 13, this year, she went to the Shiashie branch of the Midland Savings to make a withdrawal.
The prosecution said there were other customers in a queue so she also joined but after waiting for a while the bank officials came to inform them in the queue that they were having network challenges so they should go home and return on Monday.
He said on Monday, July 16, Patience returned to the bank and was told the same story after waiting for several hours.
Patience on July 19 went there at about 0730 hours and waited till the bank opened at about 0800 hours after serving some customers, the bank officials came with the same excuse and asked that those who had something to do could go and come after 1200 hours.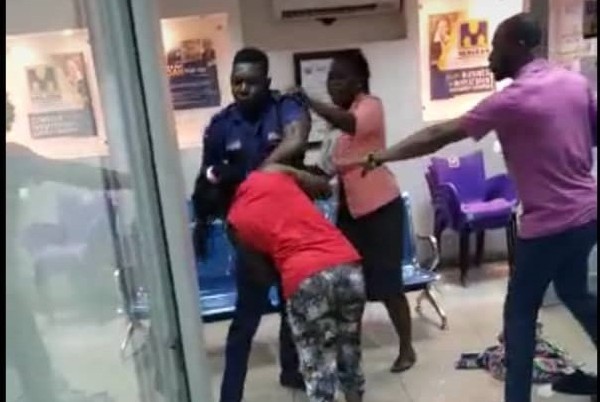 DSP Amegah said the victim decided to stay in the banking hall to get some money. At about 1400 hours the Bank officials again attended to a few people and asked the rest to go and come back the next day.
Being disappointed, the prosecution witness approached the Bank officials to explain to them that she needed the GHC105 urgently to settle her debts and also feed the baby.
He said the officials, Kukuaa and Shelly instead, called the accused to drive her out of the banking hall.
The Prosecution said the accused in an attempt to move her out ended up assaulting the witness and subsequently dragged her out of the banking hall.
The Prosecution said the following day, the Inspector General of Police directed that he should be arrested based on the assault which went viral on social media.
Amanor admitted the offence in his caution statement and after investigations, he was later arraigned.
Ghana News: Latest news in Ghana 

Credit:GNA