The family of the late Elizabeth Efua Solomon who died early August with her 5yr-old son in Canada has cited some inconsistencies with the account that led to her death as narrated by the husband.
According to late Elizabeth Efua Solomon's family, there is more to it than narration carefully put out by the husband which is all over the internet. Canadian-based Ghanaian Financial Analysis Emmanuel Akrong is the husband and father of the late Elizabeth Efua Solomon and 5yr-old boy.
"My son is dying."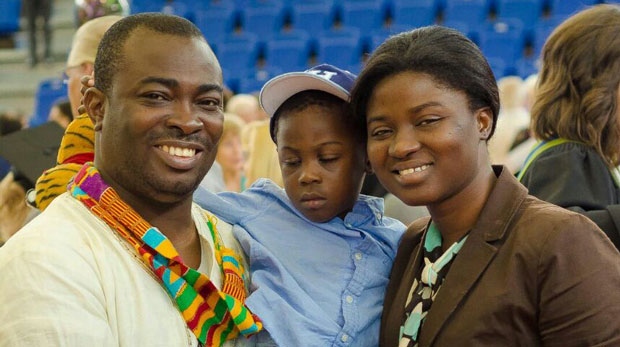 L-R Emmanuel Akrong, Emmanuel Akrong (jnr) and Elizabeth Efua Solomon
Elizabeth Efua Solomon
 

uttered the chilling words in a phone call and then hung up. Minutes later, her husband discovered her body and that of her 5-year-old son Emmanuel Akrong in their backyard pool in Brampton.
"I tried to help my son," a distraught Emmanuel Akrong Sr. told the Star in a telephone interview on Sunday afternoon, the day after the shocking double tragedy.
At about 7:30 pm on Saturday, August 4, 2018, Elizabeth Efua Solomon was on a telephone call to her mother, who lives in Ghana.
The late Elizabeth Efua Solomon said "My son is dying," and the phone line went dead.
In a panic, her mother immediately called her son — Elizabeth Efua Solomon's brother — in the U.S. and asked him to find out what had happened. He called Brampton and spoke to his brother-in-law, who told him everything was fine as far as he knew.
Emmanuel Akrong was on the second floor having a nap when the telephone call came through.
Moments later, Elizabeth Efua Solomon's mother, still worried, called and spoke with Emmanuel Akrong, who then went downstairs to look for his wife and son but couldn't find them.
He said the pool, which was installed by a previous owner, had been emptied and he and his wife decided they'd close it for this season.
Emmanuel Akrong says the pool contained some rainwater, about two feet of it in the deep end. The water came up to his knees and he could walk through it, he says.
Akrong speculates that his son was walking near the pool, fell in, and his wife tried to rescue the youngster. Neither were swimmers.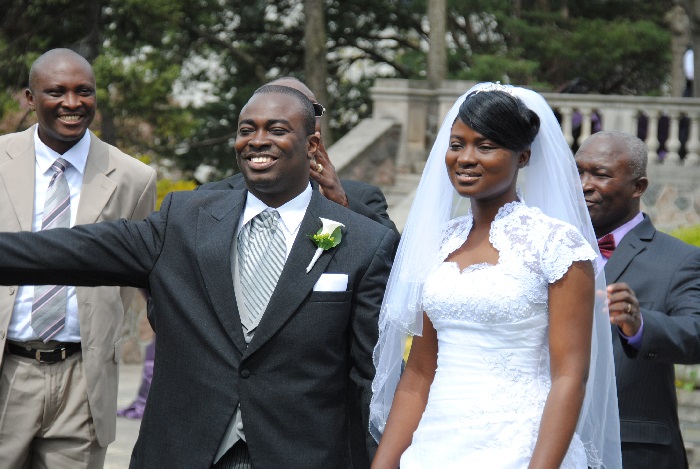 However, in an exclusive interview with Prime News Ghana, the family of the deceased Elizabeth Efua Solomon are of the view that the narration being peddled by the surviving spouse, Emmanuel Akrong is untrue. The family also advanced that the unconcerned nature of the surviving spouse in relation to the death of Elizabeth Efua Solomon leave much to be desired. 
"When I was speaking to Efua around 7 pm Canadian time, she told me is descending the stairs. I asked the where about her husband and she responded he is asleep so he doesn't want to disturb him.
In a short moment all I heard was 'Dear Jesus save my Son" Obroni is drowning then I heard she shout Akrong. That's all I heard and the next thing I was hearing was rattling noise.
Out of fear I called my son in Texas to check to also call his senior sister. After persistently calling Emmanuel Akrong he finally picked and when I asked him where Efua was, he said Efua and the kid have gone for swimming lessons and that everything is fine. I then challenged him that all is not well and that he should check on them." Mother of the deceased Elizabeth Solomon Snr told PrimeNewsGhana.
According to the Solomon family, another gross disrespect shown by surviving spouse which has given them more grounds to suspect a foul play in the circumstances surrounding the death of the Elizabeth Efua Solomon and his son is the fact, Emmanuel Akrong has planned a One Week Observation without any official announcement of the death of the duo by the male's family to the Efua's family.
In addition, some revelation is yet to be put forward to the Police to aid the investigation from 'To Grace and Truth Church and Ministries.' where the late Elizabeth Efua Solomon worshipped disclosed that there were several issues between the couple before the sudden demise of the Efua Solomon. Portions of the statement read; 
To date we have not yet spoken to the Police about:
 The constant physical domestic violence Elizabeth's husband subjected her to. Witnessed by her parents and to which Pastor Danquah was made privy to.
 The husband was having an affair with another female on the side.
 The husband's plans to secretly marry another woman in addition to Elizabeth as recently April/May 2018.
 The psychological abuse the husband subjected our sister to, with the constant rhetoric of divorce and ridicule.
 The mismanagement of household funds and financial debts the husband kept piling up on the household and put a strain on the relationship.
The distant relationship he had with his autistic son whom he found to be an embarrassment.
 The cold relationship he had with his wife: spending very late nights at work chatting up ladies online.
Lack of financial assistance he contributed to his own son's upkeep, education and the household.
 Husband recently sought divorce
Our sister feared for her life, and as recent as March dreamt she was dead and in the dream the pastor's wife asked the husband to take the body; to which Pastor Danquah was made privy to.
 Out of this fear, Our sister recently advised us she has put together a Life Insurance Policy worth $500k