The Ministry of Gender, Children and Social Protection has condemned the murder of a 90-year-old woman accused of being a witch.
The incident which happened Kafaba near Salaga in the Savannah Region has sent shockwaves through the spines of many who have also voiced out their displeasure of the act.
READ ALSO: S/R: Police begin search for killers of 90-year-old woman accused of witchcraft, details what happened
The Ministry of Gender joins other organizations who have come out openly to condemn the act and have demanded an immediate investigation and prosecution of all the perpetrators of this gruesome murder in accordance with our laws.
The Ministry further said: "It certainly cannot be said that such antiquated mentality could still be with us in this 21st century where the world and Ghana, in particular, has made significant strides in upholding the rights and dignity of women,".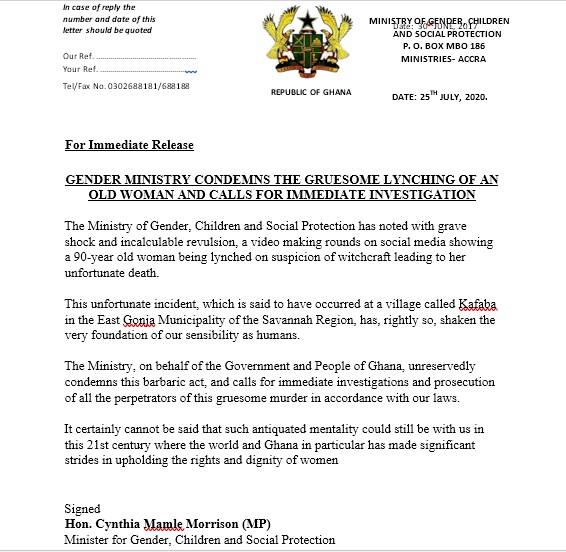 The Savannah Regional Police Commander, Deputy Commissioner of Police (DCOP), narrated what led to the murder of this woman.
"The information the police got was that an old woman of about 90 years had been beaten to death at Kafaba near Salaga. Police proceeded to the scene and saw about a 90-year-old woman dead in a house. Our initial information gathered indicate that this old woman was alleged to be a witch and therefore was tried by certain fetish priest and found guilty and therefore some youth beat her to death. The body has been conveyed to the Tamale Hospital and investigations have begun to bring the perpetrators to book."
The police are now on the hunt for one Tanko and his accomplices who allegedly masterminded the lynching of a 90-year-old woman.