Workers of the Ghana Grid Company (GRIDCo) will commence a sit-down strike from tomorrow, Wednesday, December 11 over the GHS1.2bn debt owed them by power distributors.
Their decision is part of a series of actions the staff have resolved to adopt in getting authorities to address their concerns.
According to an internal memo issued today by the company, it said emergency services will also be withdrawn outside the normal working hours.
The staff will also hoist red flags at all offices at the firm and also wear red armed bands.
Below is the memo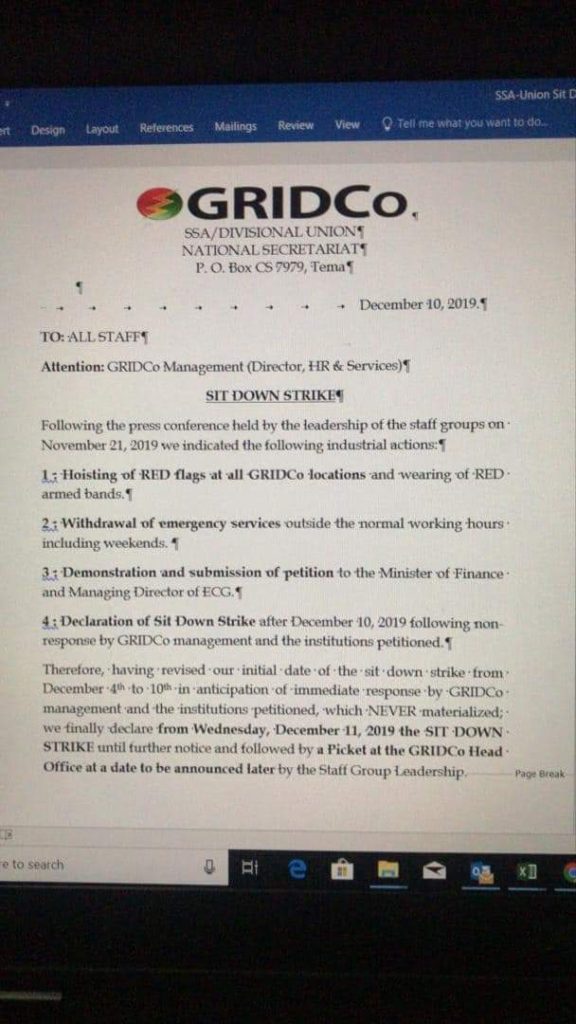 On November 1, GRIDCo held a press conference and cautioned they will be staging a march as part of efforts to get the debts paid by the state.
Addressing a press conference at the International Press Centre in Accra, Chairman of the Senior Staff Association of GRIDCo, Raphael Kornor said staff have reached their wits end and cannot continue to sacrifice any longer.
The staff, he said, have resolved to embark on various actions if the GHc 250 million the President directed the Finance Minister to be paid GRIDCo is not paid.
The other debts they are demanding are the USD $32, 576,974.05 owed them by VALCO as at September 30th, 2019, the GHc 607 million owed by ECG as at 1st March 2019, the GHc 177 million owed them by NEDCo as at September 30th, 2019 and the GHc 94, 204,903.17 which is the PDS debt which the ECG collected during the suspension of PDS.
As a sign to show how serious they are with their demands, the Senior Staff Association of GRIDCo announced, "With immediate effect, we declare the hoisting of red flags at all locations with red arm bands by all staff. This is to show our displeasure," Mr Kornor said.
READ ALSO:PHOTOS: GRIDco is 'dying' Prez. Akufo-Addo must intervene- Staff show placards on May Day
He further noted, "From the Friday, November 22nd, 2019: staff would treat all emergency work as normal work within the normal working hours. From Friday, November 29th, 2019, staff are going to march to the ECG office and the Ministry of Finance to picket in demand of our money. If by the close of work Wednesday, December 4th, 2019 all our debts are not paid, we would declare a sit-down strike. Following the sit-down strike, we shall impress upon GRIDCo Management to disconnect all customers indebted to us."

"We are embarking on these actions to restore the backbone of the NITS and to ensure that GRIDCo remains a fully-owned Ghanaian company managed by full-blooded Ghanaians and not to be thrown out there for people to grab," Mr Kornor further stated.
READ ALSO:Withdrawal of emergency services : Gov't must immediately address concerns of GRIDCo staff - Minority