CEO of embattled goal dealership firm Menzgold, Nana Appiah Mensah popularly known as NAM1 says he will address the press on the state of happenings.
About GH¢200 million of depositors cash is believed to be held up at the gold dealership firm.
Menzgold folded up last year after the Securities and Exchange Commission (SEC) ordered it to suspend its operation with the public. Several efforts by the customers targeted at the company to get their monies have failed to yield any positive results.
According to the Commission, Menzgold did not have the license to trade in gold collectibles and that doing so was in contravention of the Securities Industry Act, 2016 (Act 929)
NAM1 says he has tried all means to get cash and pay the aggrieved customers and one of such plans led him to UAE where he was arrested.
After several months, the court in the UAE ruled that Horizon Diamonds should pay NAM1 some $39 million for gold supplied.
NAM1 after the ruling returned to Ghana where he is facing charges for defrauding and has been granted bail worth GH¢1billion.
NAM1 posted on Twitter for the first time in several months and said he will address customers.
I will address the press on the 19th August,19, regarding the state of affairs of our companies, with final practical resolutions to all pending teasing matters, geared towards a highly possible rebound soon. Stay tuned to Zylofon fm & tv for updates.#GhanaShallProsper✊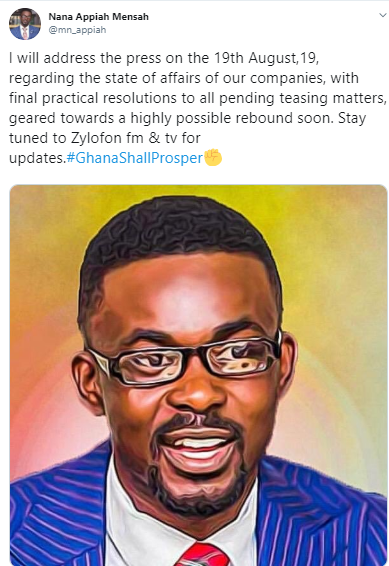 READ ALSO: