Flagbearer of the National Democratic Congress (NDC) John Mahama says the society and institutions failed the 90-year-old woman who was murdered at Kafaba in the Savannah Region.
The deceased, Akua Denteh, was lynched by some community folk after a priestess reportedly accused her of witchcraft.
READ ALSO: Savannah Regional Minister calls for calm as search for 'witch' killers begin
Decrying the attack, Mr. Mahama said: "our society and institutions failed the poor 90-year-old woman."
"Where were our Assembly Members, Unit Committees, the Police and BNI when it mattered most," the NDC Presidential nominee quizzed, adding "it was sad to see a crowd standing by and watching the gruesome spectacle."

He added: "Very sad reflection on us as a people in the 21st century. Just by luck, someone captured the sorry sight on a smart phone. How many more Dente Akua's have died pitiful unrecorded deaths?"

"At least an example can be set with the perpetrators to prevent any such future macabre incidents. I join Professor Naana Jane Opoku-Agyemang in condemning the killing and calling for justice for the family."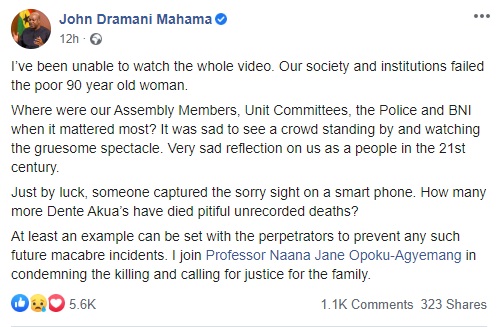 The Inspector-General of the Ghana Police Service James Oppong-Boanuh has dispatched a team of homicide experts to Kafaba to hunt for killers of a 90-year-old woman.
The suspects one Sanjo together with Hajia Filina a priestess who declared Madam Akua Denteh a witch one Teacher Aliu, Bumaye, Ashley, and Manafo have all fled the town.
A GHC2,000 bounty has been placed on the killers and the Police Service assured the public that they will go every length to bring the perpetrators to book.
The Savannah Regional Police Commander, Deputy Commissioner of Police (DCOP), narrated what led to the murder of this woman.
"The information the police got was that an old woman of about 90 years had been beaten to death at Kafaba near Salaga. Police proceeded to the scene and saw about a 90-year-old woman dead in a house. Our initial information gathered indicate that this old woman was alleged to be a witch and therefore was tried by certain fetish priest and found guilty and therefore some youth beat her to death. The body has been conveyed to the Tamale Hospital and investigations have begun to bring the perpetrators to book."