President Akufo-Addo who was a special guest at the Akwasidae Kɛseɛ which marked Otumfuo's 20th anniversary has praised the overlord of the Ashanti kingdom.
President Akufo-Addo described the Asantehene as a pillar behind Ghana's educational advancement, development, and peace.
He said the King's contribution to national development transcends the Asante Kingdom, embracing the entire country.

President Akufo-Addo hinted on the role played by Otumfuo Osei Tutu II to bring peace to the people of Dagbon and promoting a united Ghana and wished him well.

He said he is excited to witness the Akwasidae Kɛseɛ and also feels proud of Otumfuo's achievements.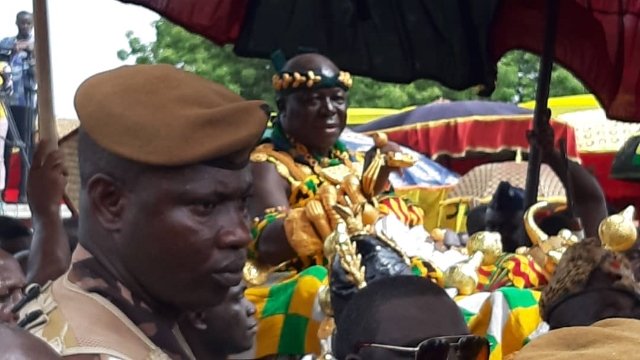 Several dignitaries were present at the event, some were former President John Mahama, former Nigerian President Olusegun Obasanjo among others.

Otumfuo Osei Tutu II ascended the Golden Stool on April 26, 1999.

On that momentous day, Barima Kwaku Dua, as he was then called, held in his right hand the Busumuru sword, and with his kuntunkuni (black cloth) dropped to his chest, swore the oath of Asante to be faithful to his people.

Akwasidae Kɛseɛ
Akwasidae Kɛseɛ is an expanded form of Akwasidae, celebrated every six weeks in line with the Asante calendar which is based on a cycle of 42-two days and nine months in a year.

The Akwasidae Kɛseɛ is celebrated every five years to crown all the Adaes.
Sunday's Adae was the fifth since the Otumfuo Osei Tutu II ascended the throne.
Read also:
For more general news visit primenewsghana.com