Asante Kotoko management and the National Cricles Council (NCC) have reached an agreement with regards to the recruitment of players to the club.
The supporters front and the Club's management yesterday met and discussed key issues concerning the way forward of the club. 
Following the conclusion of the meeting, Kotoko's management have given the NCC the green light to purchase a player for the club based on the recommendation of head coach Maxwell Konadu.
Portions of a letter read from Kotoko and NCC: "Management and the National Circles Council (NCC) have met to discuss some key issues of mutual interest.
"The meeting discussed the NCC's proposal to help management with player acquisition as the club take steps to augment the squad this transfer window.
"Management agreed to the NCC's proposal to foot the recruitment charges of one player so desired by coach, Maxwell Konadu"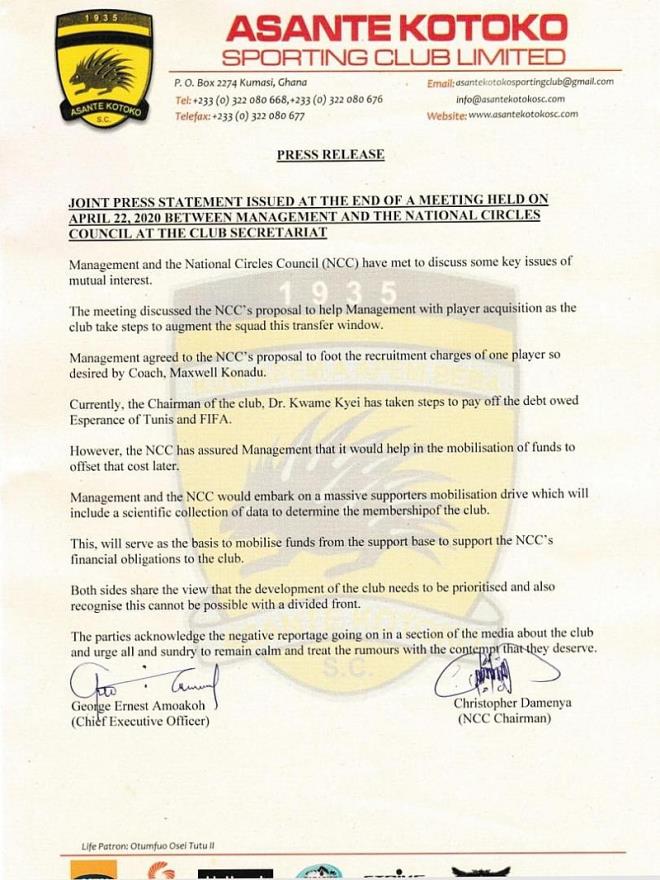 READ ALSO:Â Felix Annan vows to fight for Kotoko place
In a related development, Manhyia Palace has set up a Committee to investigate the circumstances surrounding Asante Kotoko transactions with Tunisian Club Esperance which resulted in FIFA fining the club $240,000.
FIFA's Disciplinary Committee has fined Kotoko for the illegal transfer of striker Emmanuel Clottey in 2015, who was then with Esperance. 
The Porcupines have been ordered to make full payment of $180,000 fee to the Tunisian giants regarding Emmanuel Clottey's transfer while also paying $45,000 as interest to the said club and as well as $15,000 to the committee that sat on the case.
The Porcupines have until May 17, 2020, to pay the said amount else will be banned from signing new players.
Portions of a letter signed by Mr. Kofi Badu, Chief of Staff of Manhyia Palace said: The attention of Manhyia Palace has called to a heightened media warfare over the non-payment by Asante Kotoko Sporting Club of a debt of $180,000 owed to the Tunisian Club Esperance as a result of a FIFA ruling in 2016 and the subsequent transfer of an Asante Kotoko SC player to the same club in 2018."Â 
The statement added that in view of the Clottey's transfer saga the club has suffered various attacks which is bringing the club into disrepute and has called for the immediate cessation as the Palace takes steps to deal with the substantive issue confronting the club.
It also said a Committee has been set up to investigate how the club went about Emmanuel Clottey's transfer that has led to the Porcupines going to pay judgement debt.
In addition the Committee is expected to to find out Kwame Bonsu's transfer from Asante Kotoko to same Tunisian club Esperance in 2919.