Debuting its first flights in January 2020, Taiwanese start-up STARLUX Airlines could be the first new player in 30 years to upend the island's duopoly aviation market.
And even before the carrier, dubbed Taiwan's first luxury boutique airline, set its first aircraft into the air, it's been creating a stir.
Eleven minutes after opening ticket sales online on December 16, the Taipei-based carrier sold out all seats on its first three flights -- Taipei-Macau, Taipei-Penang and Taipei-Danang.
But both aviation watchers and the general public are abuzz for another reason: A succession drama involving STARLUX founder Chang Kuo-wei that's so juicy he's being referred to as the aviation industry's "Prince Hamlet" by local media.
READ ALSO: What happens if you don't put your phone on airplane mode on a flight?
This Shakepearean tale took root in 2016, when Chang Yung-fa, founder of Taiwan's Evergreen Group and airline EVA Airways, passed away at the age of 88, sparking a battle over who would take over one of the island's biggest family-run conglomerates.
Chang, 49, who had been the chairman of EVA since 2013, revealed that his late father had named him the successor of parent company Evergreen in his will.
A well-loved figure in the aviation industry, known for his outspokenness and expertise, the son had experience working for EVA Airways as both an aircraft technician and a pilot.
But being the youngest son and the only child of Chang Yung-fa's second wife, Chang Kuo-wei's promotion ignited a family feud. He was soon ousted from EVA as chairman at a board meeting called by fellow family members.
A few months later, he announced that he was going to launch his own airline -- STARLUX Airlines.
"He doesn't think that he's 'Hamlet'"
Local media have called it a Hamlet-like retaliation plan.
The anticipation of the new airline's launch has grown as both EVA Airways and China Airlines, Taiwan's two main airlines, have been plagued by strikes and internal conflicts.
China Airlines and its crew reached a deal after a week-long strike in February 2019 whereas EVA Airways experienced a 17-day strike in July, the longest in Taiwanese aviation history.
But according to the team at STARLUX, Chang isn't out for retribution.
"He doesn't think that he is 'Hamlet'," K.W. Nieh, STARLUX's chief communication officer, tells CNN Travel. "This has nothing to do with revenge."
"Because of his passion for aviation, Chang merely wants to build an ideal airline that reflects his style after breaking from the shackles of Evergreen Group. He is building STARLUX to fulfill the expectations of his late father."
CNN Travel has reached out to EVA Air for comment.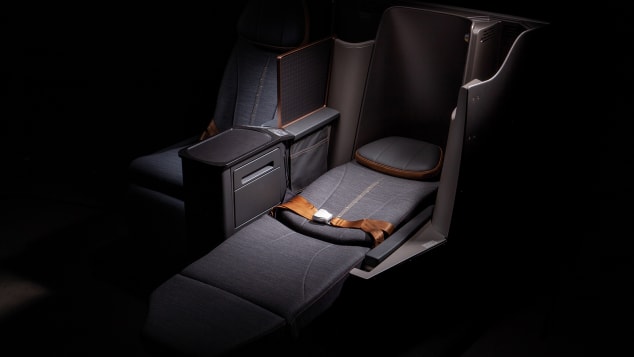 Homegrown luxury airline
Whether or not Taipei-based STARLUX can outdo the other major players on the island remains to be seen, but it's certainly upped Taiwan's aviation game.
The airline is introducing a new generation of passenger aircraft, including the A321neo and A350-1000, "both debuting for the first time in Taiwan," says Nieh.
Indeed, STARLUX is the first Taiwanese airline to be equipped with A321neos -- all 10 of them will be delivered by the end of 2021. STARLUX signed Taiwan's largest single Airbus purchase agreement, purchasing 17 A350XWB aircraft in March 2019.
Chang himself piloted STARLUX's first A321neo to Taipei from Hamburg last month.
"The fleet will grow to 27 aircraft by the end of 2024 and 50 by the end of 2030," adds Nieh.
The interior of the narrow body cabin, designed by BMW's Designworks studio, is fitted with sleek seats, leather headrests and inflight entertainment systems across all classes.
Economy class seats will feature a 10.1-inch 720p screen while business class seats -- equipped with narrow-body seats that can recline into an 82-inch fully flat bed -- will offer a 15.6-inch 1080p inflight entertainment system.
Free Wi-Fi with basic access (texting only for economy passengers) will be offered for both classes on all STARLUX flights -- also a first in Taiwan.
Local touches abound as well. A unique cabin scent -- with notes of woods, leather and florals -- has been created by Taiwan-grown fragrance brand P.Seven. The airline's crew uniform, which bears themes of retro-futuristic travel in the 40s and 50s, is the product of local designer Sean Yin.
No fare war: STARLUX will charge more than competitors
Aspiring to be the Emirates of Asia, STARLUX vows to provide premium service, too.
At a recent press event, Chang said STARLUX Airlines will not start a fare war. Instead, its tickets will be reasonable but more expensive than its competitors.
"We consider flying as an enjoyable part of the journey," adds Nieh. "We offer top-notch and exquisite services. It differentiates STARLUX from other companies in the market.
"We position ourselves as a boutique airline, targeting the higher-end market. We have introduced the most advanced aircraft models with the latest aviation technology and seats. We offer exquisite service items so the fare will be slightly higher than the other airlines."
Source: CNN
 
Source: CNN