Ugandan pop star-turned-MP Bobi Wine has returned home after receiving medical treatment in the US for injuries he says he suffered in custody.
"It's great to finally be home," he told supporters outside his house.

Police escorted him there from the airport - a move which he said was against his wishes.

The BBC's Fergal Keane accompanied him into his home, where the MP said he had "come back to fight".

Bobi Wine, 36, whose real name is Robert Kyagulanyi, was charged with treason alongside 32 other politicians following campaign violence during a by-election in August.

His treatment by Ugandan authorities has been condemned by the EU, UK and US - earlier this week a group of US Senators warned that democracy in Uganda was "backsliding".
Read also:Celebrity blogger acquires brand new Bentley for her newborn son
Some of music's biggest names, including Angelique Kidjo, Chris Martin and Damon Albarn, signed a petition for the MP's release when he was in detention last month.

Some see Bobi Wine's popularity as sign of a generational rift between Uganda's young population and President Yoweri Museveni, who has been in power since 1986.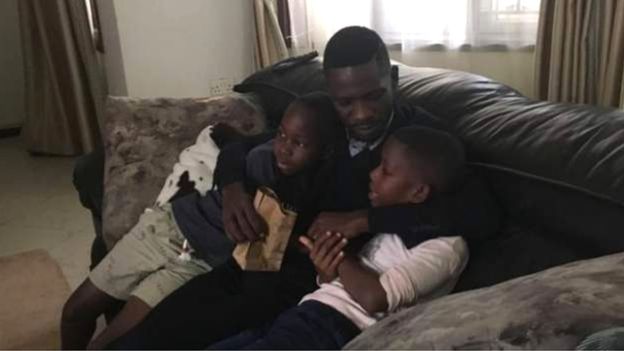 'Ambitions for a people-power revolution'