Second Deputy Speaker of Parliment, Alban Kingsford Sumani Bagbin has clarified comments he made against some National Democratic Congress (NDC) appointees under the John Mahama-led administration.
 The Nadowli Kaleo MP while addressing an audience during his tour of the Volta Region noted, "I learnt from tradition that it is not the chief that speaks, it is the linguist and so when you are a leader, you must have a very good linguist".
"When Prof [Atta Mills] was in power, Haruna Iddrisu was our linguist in charge of communication, when my brother John Mahama came to power, he substituted him for Dr. Omane Boamah who is a natural stammerer", the Nadowli Kaleo MP said during his tour of the Volta Region.
"He is a very intelligent boy. He is smart but when he is speaking, he wastes time in coming out and Ghanaians do not have that much patience, so they are always looking for those that are rattling", he explained.
Alban Bagbin's comments have received several reactions from Ghanaians, civil society and founder of the opposition NDC, Jerry John Rawlings.
Read Also: We're very disappointed in you Alban Bagbin- GFD ...
However, speaking at a press conference in Accra today, Mr. Bagbin clarified his comments, saying he was quoted out of context.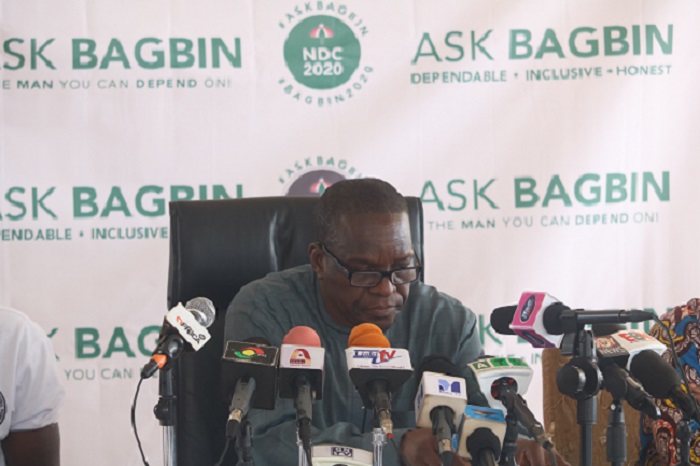 "I did not say persons with disabilities are not competent to be appointed to public officers or Ministerial positions. What I said is that, wrong decisions were made in placing some government appointees. The wrong placement cost the NDC some votes".
Speaking on his comments with regards to the appointment of Dr Seidu Danaa, who served as a Minister for Chieftaincy and Traditional Affairs, Mr. Bagbin said "if I said a particular appointment with the Ministry of Chieftaincy would affect the electoral fortunes of our party, it is not to say that the person appointed is incompetent. It is because there is a standing tradition in our chieftaincy institution that disqualifies that person to oversee chieftaincy affairs and would incur the displeasure of the traditional leaders for the party if the person is appointed into the ministry".
On the appointment of Samuel Okudzeto Ablakwa as a Deputy Education Minister in-charge-of Tertiary Education, the MP for Nadoli said "if I said the appointment of a particular person as a Deputy Minister of Education responsible for Tertiary Education was politically inexpedient, it is not because the person is incompetent for all ministerial appointment. It is because there is some standing conflict between that person and some university lecturers that would make his appointment some source of lecturer's displeasure".
Mr. Bagbin commenting on the comment he made on the appointment of Dr. Omane Boamah as the Communications Minister, explained "if I said the appointment of a person with a special disability in a speech to be a Minister of Communications was politically inexpedient, it does not mean that such a person is incompetent to head any Ministry by reason of his special disability".
 Read Also: Bagbin apologizes to persons with disabilities
Latest political news from Prime News Ghana