The Breman Asikuma District Magistrate court has given an order to auction drums and tins of Akpeteshie drink, belonging to a judgment debtor called Kofi Badu in settlement of a judgment debt.
The property of Kofi Badu having been seized in execution under Writ of Fifa dated July 18, 2019, will be sold under public auction scheduled to take place on Tuesday 30th July 2019 at the premises of the Breman Asikuma District Court.
The items to be sold are 3 drums of Akpeteshie drink, 2 tins of Akpeteshie drink, 1/2 tins of Akpeteshie drink.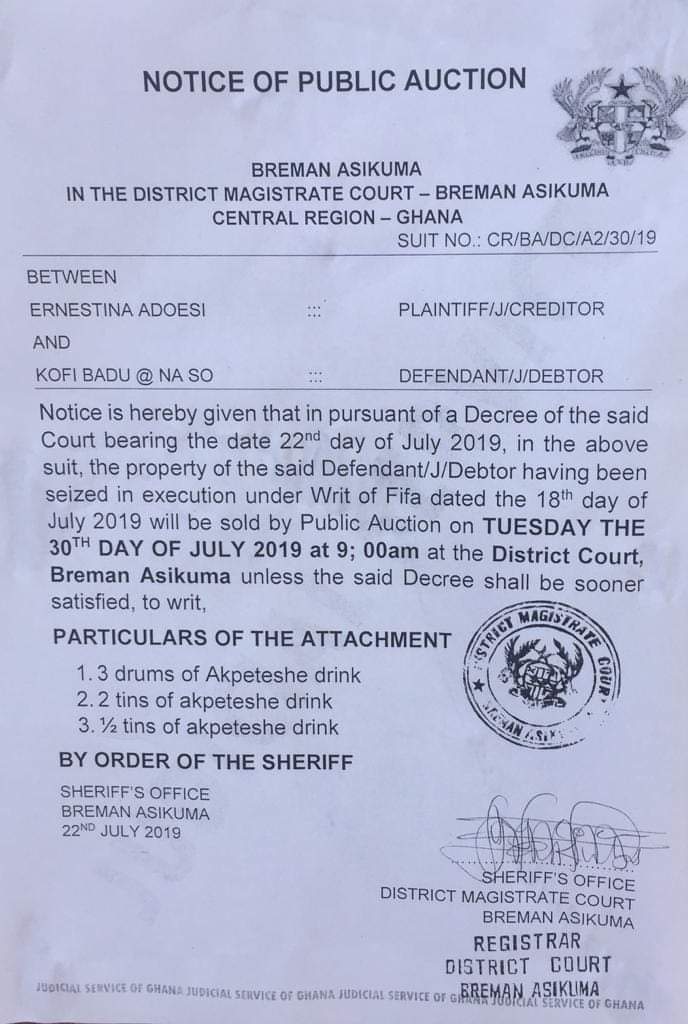 Akpeteshie is local gin in Ghana, produced by distilling palm wine or sugar cane. Other names for this drink include apio, agrogro, and VC10.
Last month the Ga West Municipal Assembly in an uncharacteristic move auctioned four goats for ¢665.
The move, according to the Municipal Chief Executive of the area, Clement Wilkinson, was to deter people from leaving their domestic animals to stray in people's homes and backyards.
This caused a stir among some Ghanaians but Mr Wilkinson noted that the auction by the Assembly was not a crime since it was backed by law.
Under the by-law of the Assembly, where an impounded animal is not claimed within a period of four days, the Assembly shall cause a notice of the impoundment to be displayed at a conspicuous place in the area for six days.
At the expiry of the period specified, if the animal remains unclaimed, it shall be sold at a public auction by a licensed auctioneer or other person appointed by the Assembly for that purpose.
READ ALSO: