A woman believed to be pregnant has reportedly poured hot water on the feet and buttocks of her five-year-old stepdaughter for bedwetting.
Rebecca Awanu has since been arrested and detained at the Amasaman Police Station in the Greater Accra Region.
Narrating the incident, the headmaster of Odumprala MA Basic School, Emmanuel Atisey, revealed that the victim, who attends that school, had not been to school for three weeks and was reported to have been suffering from malaria.
He said the girl reported to school last Wednesday with Gentian violet smeared on her feet which had serious burns.
The victim refused to disclose how she sustained the injury but the crime was detected when Mr. Atisey asked his girl-child coordinator to examine the minor critically.  The coordinator was shocked to see the victim's buttocks rubbed with GV and burns showing as well. The educational directorate in the area was contacted for instructions and later the victim was taken to the hospital.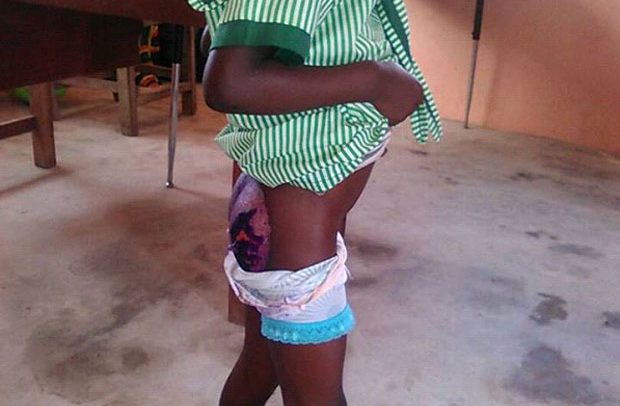 The poor girl had been kept at home since October 26 when the incident happened, without any medical treatment, as the father claimed that he didn't have money to take her to the hospital.
Police report also revealed that the vagina of the girl had been damaged and infected per the medical exam from the Amasaman Hospital.
The horrific act was confirmed by the Divisional Crime Officer, DSP Michael Happy Addae.
www.primenewsghana.com/ Ghana News